Will Esquire's Cover Really 'Revolutionize' the Way We Read Magazines?

Granger: 'This is the most important issue of my 11 years at Esquire.'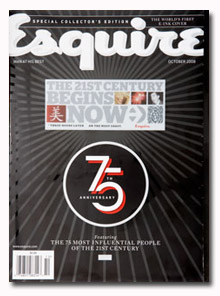 Truly revolutionary. A
breakthrough issue. Historic. A game-changer. A milestone in the publishing
industry.
That's how a gushing vice president and publisher Kevin O'Malley described Esquire's much-hyped 75th anniversary issue cover—the first to use flexible electronic "paper"—during a press conference in New York City
Monday.
Editor-in-chief David Granger—a
frequent proponent of innovation—called the issue "a beginning."
"As Esquire does this again, and as more Hearst magazines
get into the act, I think the versatility of digital, of flexible display
technology, can be a stunning enhancement to what the print medium does," said
Granger. In a July interview
with FOLIO:, Granger said that electronic paper display technology could
revolutionize the way people read magazines.
The electronic cover (100,000 copies are available only on
newsstands) is made up of microcapsules that contain black and white pigment
which rise to the surface of the flexible plastic cover when a charge is added.
The batteries, Esquire says, should last six to eight months.

RELATED: The
Technology Behind Esquire's Flashing Cover
But is this blinking cover really the future of magazines? I
find it hard to believe. Who needs a blinking magazine when devices like the Amazon Kindle and the Sony
Reader do, in essence, the same thing, and neatly updated news—something magazine publishers say will be one of the uses of e-paper—is already available on smartphones?
That said, the Esquire cover is pretty cool, and, more importantly, an effective publicity gimmick for an anniversary issue that
happens to feature some great editorial, too.
"This is the most important issue of my 11 years at
Esquire," Granger told me after the conference. "I want to call as much
attention as I can to that."
Meet the Author
---