Even today, many publishers turn to digital editions simply as a straight replica of the print product.
But at a recent FOLIO: Webinar, "State of the Art in Digital Magazines," two b-to-b publishers shared how they have refigured their digital edition strategies to make them a key part of the editorial, sales and audience development missions.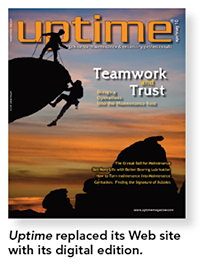 Uptime Magazine started offering digital editions in 2006 through its printer. At the time, Uptime's Web presence was limited (and overshadowed by its ReliabilityWeb.com sister site), and digital editions were a good way to expand its online presence. However, Uptime stopped that digital edition in late 2007 due to low adoption and no revenue model. "What we failed to do was have a business model around the digital edition," says Terry O'Hanlon, publisher of Uptime Magazine and ReliabilityWeb.com. "It was a barebones vanilla platform. We weren't able to provide metrics to advertisers or ourselves."
In 2008, Uptime teamed with Nxtbook Media and re-launched its digital edition strategy, which today includes 23,000 digital-only subscribers and 60 percent of its annual advertising contracts extending to the digital edition. Average reader visits are eight minutes long, with 20 out of 60 pages viewed and 17 percent of visitors clicking on ads, according to O'Hanlon.
Uptime has several e-mail publications and includes links to the digital editions in all e-mails (sometimes featuring the TOC of the digital edition with a direct link). "Traffic doesn't happen by accident," says O'Hanlon. "Fifty percent of our visitors come through Google or direct links, but 50 percent also come from e-mail pushes."
More recently, Uptime has started routing the primary Web site domain to the digital edition as a starting page. "We did that to demonstrate our commitment to the digital edition to advertisers and because readers find it easier to route them to the current issue," says O'Hanlon. "You can e-mail us and bookmark pages—there is little you can do on a Web site that you can't also do from inside the digital edition."
Meanwhile, Edgell Communications began testing digital editions for Consumer Goods Technology in 2007, and in 2008 and 2009, replaced four issues of the print magazine with digital issues.
While Edgell isn't replacing Web sites with the digital edition, vice president of online media Rob Keenan agrees with O'Hanlon on the importance of marketing digital products. "One of the mistakes publishers make on the push side is to say, 'Come look at the cover of our digital edition,'" he says. "That's nice, but it's a sample of the content that really drives them."
Optimizing the Digital Format
Publishers need to ask themselves how they are optimizing themselves for the digital format, according to Keenan. What are you putting in the issue that will drive them?
"We don't do a vertical magazine as a digital issue," he adds. "We're not constrained to the typical ways we build print. With a digital edition, we can go with a horizontal layout and avoid the zoom function."
The digital edition of Consumer Goods Technology features deep integration with the Web site, with content flowing through the same CMS. The magazine also includes a number of features that make the issue look digital—including video, polling, and blow-in charts.
To pull better metrics, Consumer Goods Technology tied ads for its digital edition directly into its ad management system. "A lot of people don't do that but it lets us serve Flash ads and it makes reporting easier," says Keenan.
Both Uptime and Consumer Goods Technology offer enhanced ads with digital editions, ranging from Flash to video to audio. Consumer Goods Technology has seen Flash boost clickthroughs by 50 percent on some ads and Uptime is providing direct response capabilities, where readers can fill out forms in the ads.
"Advertisers like the creative control with a digital edition versus static banners on a Web site," says O'Hanlon, who adds that the price for enhanced ads can range from $500 to $5,000. "If you tack on something that makes sense, $500 is not much money for a b-to-b advertiser."