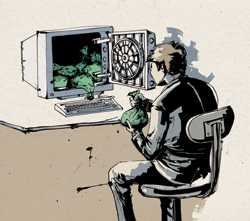 With print losses mounting, and online ad revenues not living up to expectations, some publishers are returning to the idea of monetizing editorial content online. In April, Court TV and American Lawyer founder Steve Brill, along with former Wall Street Journal publisher L. Gordon Crovitz and media exec Leo Hindery Jr., created Journalism Online, an ambitious initiative to build an automated system that will allow magazine and newspaper publishers to charge subscription fees for online content.
Charging for content online may not be feasible for all publishers but may at least be worth considering. Here's how three publishers have successfully implemented online paid content models.
August Home Publishing
PlansNow.com
Giving away content for free online has been "a big mistake," according to August Home Publishing founder Don Peschke. He's been charging for content online for more than 15 years and says within five years those revenues could make up as much as 50 percent of the company's total revenue. August Home could become "entirely electronic" if those projections become reality, he says.
"This is the electronic, paid delivery of content—editorial delivered via the Web, e-mail and mobile," Peschke adds. "This isn't about PDFs or anything that resembles a magazine page. We're developing new graphic presentation formats that incorporate text, photos, video, animation and audio, and fit wide computer monitors. It's about being dynamically interactive."
In 1994—after launching Garden Gate, Cuisine at Home and Workbench—Peschke took Woodsmith online with the intention of selling its content.
The move online was an important one for August Home since, until this year, only Workbench carried print advertising (and it will stop doing that as of the June 2009 issue). "We signed up members who paid an annual subscription fee to purchase woodworking plans, which were PDFs of articles from Woodsmith," Peschke says.
Two years later, in 1996, August Home began charging a per-download fee. "This was not a membership program, rather a pay-per-download format," he says. "By 2008, we were selling approximately 100 to 150 plans a day, at a price range of $4.95 to $12.95. Woodworking plans do well because the average price point, which is $9.95, works for typical single-purchase credit card transactions."
Last December, Peschke expanded the model by launching a paid membership component for a site called PlansNow.com, which was divided into three pay levels: "Classic" free membership, "Gold" for $19.95 per year, and "Platinum" for $29.95 per year.
"It's growing ahead of our original projections and we anticipate 10,000 members by the end of the year," Peschke says.
Next, August Home is looking into developing similar paid community models for its cooking and gardening verticals. The communities will either require memberships, micropayments or both, Peschke says.
August Home's Model: Charges per-download fees for work plans, plus paid membership subscriptions ranging from $19.95-$29.95 per year.
The Pay-Off: August Home sells 100-150 plans per day. Online revenues are projected to make up 50 percent of the company's overall revenue within five years.
 
Aviation Week
Aviation Week Intelligence Network
Aviation Week has a long history of charging for its content. Launched more than 90 years ago, the print magazine has always had a paid model, today charging more than $100 for an annual subscription. The magazine also has a portfolio of paid newsletters—including Aerospace Daily & Defense Report, Aviation Daily and the Weekly of Business Aviation—with pricing ranging from $649 to $1,785 per year.
Aviation Week Intelligence Network, the magazine's online destination for premium paid content, launched in 2002, initially as a virtual library, after being approached by Boeing. "They said, 'we get all of your products and it would make our lives easier if you could put all of these in one place,'" says Anne McMahon, Aviation Week's group director of information marketing services. "Shortly after launching as a virtual library of magazine and newsletter content, we realized that it was something other customers would be interested in as well."
Today, AWIN has more than 2,000 paid accounts—including individuals and enterprise accounts for companies and organizations such as Lockheed Martin, NASA and the U.S. Department of Transportation. It features a multiple-tiered pay plan "allowing subscribers access to as much or as little information as they need," McMahon says. Single "seat" subscriptions range from $900 to $3,545, while enterprise and group sub prices vary according to the number of users.
In terms of content, AWIN provides subscribers access to more than 250,000 articles, details on more than 21,000 companies, contact information for nearly 70,000 industry professionals, 13,000 tables and charts, and specification data on 3,100 products. "We often package newsletter delivery and/or magazines depending upon the customers' needs," McMahon says.
AWIN usage has grown 20 percent since December, McMahon says. Looking forward, Aviation Week plans to build out each of AWIN's vertical channels with more data and analytics. "The nature of the business is in developing databases and delivering on the media side some of the connectivity advertisers are looking for. There's a place there for paid content," she says. "AWIN represents an asset for professionals who are serious about doing business, and want serious content in one place. I see that increasing."
Aviation Week's Model: Created a paid premium content site featuring multiple-tired pay plans.
The Pay-Off: AWIN has more than 2,000 paid accounts, including individuals and enterprise accounts. Usage is up 20 percent since December.
Chemical Businsess Media
Chemweek.com, CHE.com
Access Intelligence's Chemical Business Media switched its Chemical Week and Chemical Engineering Web sites to a paid content model in 2007. Since then, the group has generated 30,000 new customers which helped stop a 30-year revenue slide.
"We had a paid content system before, but not a smart one," says John Rockwell, vice president of marketing and e-media. "While we're requiring that people register, we also dramatically improved the user experience—in terms of making access to the content as easy as possible—which, we think, balances the perceived trade-off."
Nearly all content at Chemweek.com is accessed only by subscription, with prices ranging from $200 to "several thousand dollars" annually for e-newsletters, white papers and other "high value" services, Rockwell says. Chemical Engineering's CHE.com features some free areas, accessed only when users register. Roughly 6 percent of those free users convert to paid subscribers.
Overall, conversions and renewals at both sites rose 15 percent. Revenue per subscriber increased 14 percent, while unique visitors rose by 225 percent.
"If your brand is strong enough as a news analysis source, especially in the b-to-b space, then I say go for it," says Rockwell. "It's about making every customer touch count. If you're not, you're leaving money on the table. We've been lucky in that we've been able to turn users into subscribers, and scoop up more market share. In this down economy, I'll take it."
CBM's Model: Chemweek.com and CHE.com users pay annual subscription fees ranging from $200 to "several thousand dollars" for access to e-newsletters, white papers and other "high value" services.
The Pay-Off: CBM has generated 30,000 new customers which helped stop a 30-year slide in total revenue and revenue per customer.