Reader's Digest Returning to its 'Roots'; to Roll Out More than 20 New Products Next Year

Print magazine moves toward aggregation, will unveil an iPad edition, more.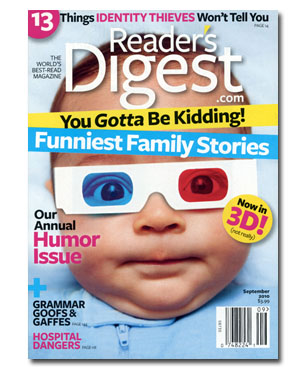 NEW YORK—While the print edition of Reader's Digest has cut frequency, slashed rate base in the U.S. and shed staffers, the magazine over the last several months has hinted at a number of new digital initiatives going on there. This morning, the magazine officially unveiled those plans, indicating that it will introduce 24 new products—both digital and print—over the next year.
According to Reader's Digest Media president Dan Lagani, who hosted the unveiling along with Reader's Digest global editor-in-chief Peggy Northrop, the magazine is "returning to its roots" as a "trusted curator" of information for its family-centered consumers. The idea, said Northrop, is for Reader's Digest editors and its content providers to aggregate the most relevant content for its audience. "It's an expansion of things we've tried to do in the magazine over the years," Northrop said.
Reader's Digest was founded in 1922 by DeWitt and Lila Bell Wallace, and consisted mostly of content from other magazines and sources.
Another important goal, Lagani said, is to make the magazine's content available across all platforms. The center of this initiative is Reader's Digest Version, the umbrella from which these digital products will come. Included among them will be an iPad edition that will launch along with the February 2011 issue of the magazine.
Best You, a magazine that was to launch this spring and repurpose editorial from Best Health—a title parent company the Reader's Digest Association launched in Canada last year—but was put on hold, now is expected to launch as a daily e-newsletter and book imprint under the name Reader's Digest Best You.
Reader's Digest also is planning to publish six new special interest publications next year and to launch one new special-themed mobile app each month in 2011. "We're bulking up this portion of our business quite substantially," Lagani said.
The publisher also will become "brand-centered" in terms of advertising under the new initiative. Advertisers, Lagani said, will be able to purchase ads on any of Reader's Digest's platforms from "one collective brand" instead of separate representatives.
Lagani also alluded to a new initiative called "We Hear You America," but did not offer any further details about it.
Parent company RDA reported a $31.8 million operating loss during the six-month period ended June 30, on $850.4 million in revenue. During the second quarter, revenues for Reader's Digest U.S. decreased 3.1 percent to $177.1 million. Operating profit, meanwhile, jumped 3.2 percent to $39 million.
In June, RDA said it was reducing its global workforce. The cuts reportedly amount to about 10 percent of its overall staff, or about 270 employees. RDA said those cuts will be reflected in second half results and is expected to deliver $34 million in run rate savings.
Meet the Author
---