Retailers Say No-Go to Music Magazine's Racy Gaga Cover

U.K.'s Q turned away by some stores over provocative image of pop music star.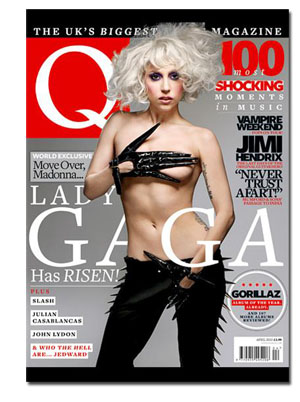 Whoa, under boob!
OK, now that that's out of the way … U.K. music and news title Q Magazine is facing some closed doors across the pond in the U.S. in terms of retail distribution. The "100 Most Shocking Moments in Music" issue, on newsstands this week, features current pop music sensation Lady Gaga on the cover. As we see to the right, there's some exposed lower breast and, yes, she's wearing some type of, ahem, attachment.
According to the magazine's Web site, the racy cover has sparked some negative response from retailers in the U.S. It says Borders stores are refusing to carry the issue unless the "offending area is covered up, also expressing some concerns over 'crotch grabbing.'" In addition, the magazine said New York State law prohibits retailers from carrying magazines "showing anything below the nipple."
While other retailers haven't said whether or not they'll carry the issue, Q said some have requested it be sealed in a bag not only because of the cover but due to the "shocking" moments associated with the feature story (read: Murder! Beastiality! Kidnapping! Incest! Necrophilia! Rollerskating coke dealers!).
At first glance, this cover does look potentially offensive and honestly pretty ridiculous. But Lady Gaga is arguably the best music artist to have on the cover of a "most shocking" magazine issue. The magazine obviously exploited the 23-year-old's eccentric personal style and well-reported sexual ambiguity for this cover.
Of course, this isn't the first time recently that a magazine has been deemed too racy or controversial by retailers. Hudson News placed a piece of paper over the window display copies of GQ's January 2009 issue, which featured actress and former John Mayer flame Jennifer Aniston on the cover wearing only a tie and a smile. Last March, Jo-Ann Fabrics banned an issue of, yes, Quilter's Home for a feature called "Shocking Quilts," which included images of "fabric falluses," "gun-toting Jesuses" and a "newborn peering out from his mother's lady parts."
Who knew quilters were so naughty?
Meet the Author
---