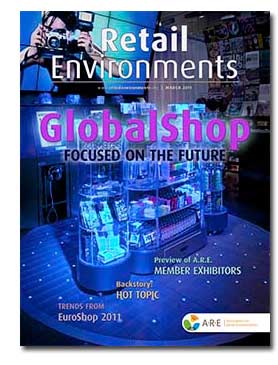 The Association for Retail Environments [ARE] is reinventing and growing its bimonthly magazine, Retail Environments, to have a broader industry wide circulation and coverage of membership-centric topics.
Currently, the publication has a circulation of about 5,000 and the group is planning to grow its reach to 15,000 by the November/December issue through its extensive database of retailer names.
About 600 corporate members belong to ARE—the publication had previously gone out to individuals of those corporate entities, suppliers and store design firms. Retail store design, store planning and visual merchandise decision makers at retailers in North America will now be included in the expanded distribution.
"We have the database," says Karen Schaffner, publisher of Retail Environments. "It's just a matter of adding those names to our circulation. We're obviously changing the content up significantly."
The new publication will have strong business-focused editorial content "that helps elevate the conversation between retailers and their suppliers—ARE's member companies," says executive director Klein Merriman in a news release.
The publication, which originally launched in 1998, is offered free to qualified subscribers in North America which include manufacturers and suppliers of fixtures, visual presentations, design firms, and providers and materials and equipment to retail environments. Other subscribers are charged $48, international subscribers $75 and back issues cost $25 each, according to the ARE website.
"It's an age where marketing is a key driver for our members," says Schaffner. "The magazine has become more and more important as an informational vehicle."