'Resumes From Craigslist Make My Skin Crawl'

FOLIO:'s Magazine Job Report 2008 is released.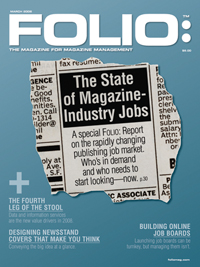 FOLIO:'s annual, much-anticipated Magazine Job Report is out, and it's a great read (I should know—I co-wrote it!). It's choc-full of interesting, if not surprising, anecdotes.
Like this one:
Craigslist is a deplorable resource, according to ZweigWhite's [Dick] Ryan. "Resumes from Craigslist make my skin crawl. Some have worked out but many have been unmitigated disasters," he says. For entry level positions, however, he admits it can be useful, as people under the age of 30 are relying on social sites such as Craigslist and even Facebook and MySpace.
For the full PDF version—including charts—click here.
Click here for the online version.
Meet the Author
---