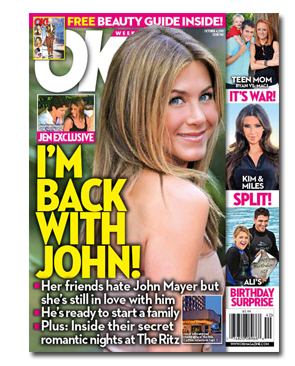 Time Inc. is bidding for the U.S. edition of Northern & Shell's OK magazine, according to multiple sources.
Over the weekend, a Sky News blog reported that Time is offering between $30 million and $35 million for the magazine, which debuted in the U.S. in 2005 and is reported to be posting significant losses (including as much as $700,000 per issue).
Now an Ad Age report says it has confirmed the story, although its sources say the bids are less than what Sky New reported.
Earlier this year, it was reported that Northern & Shell owner Richard Desmond hired investment bank Barclays Capital to manage the sale of Northern & Shell's magazines in the U.K. and abroad.
Ad pages in OK fell 5.6 percent in the first quarter of 2011 according to Publishers Information Bureau while the magazine missed its guaranteed 800,000 circulation rate by 2.4 percent in 2010, according to the Audit Bureau of Circulations.
Last fall, OK replaced Mark Pasetky as top editor with Richard Spencer, the former editor-in-chief of Bauer's In Touch Weekly. At the time, newly-appointed publisher Stephen Gregory Barr said the reports of financial losses with the magazine were "completely exaggerated." "We've said this many times on-the-record: In just five years-during which many magazines have closed their doors-we've launched, made ourselves a recognizable name in a crowded category and have indeed achieved run-rate profitability in the past year," said Gregory Barr last September. "Based on this, OK!'s parent company, Northern & Shell has made a fully committed monetary, product extension investment in the U.S." (Gregory Barr jumped ship for Ebony/Jet earlier this year.)