Report: UBM Chairman John Botts to Retire

Plans to depart as early as May 2012, as the company seeks his replacement.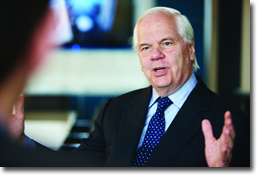 UBM plc has commenced a search to replace chairman John Botts, who is planning to retire as soon as May 2012, according to a report this week in The Independent.
A spokesperson from the company declined to confirm or deny the Independent's report due to corporate policy.
Botts became chairman in December 2007 after being appointed to the UBM board in 1997 as a non-executive director. He is currently senior advisor in London of investment firm Allen & Company and chairman of private equity firm Botts & Company.
The company, led by CEO David Levin, saw an overall revenue increase of 9.8 percent to $1.1 billion for the first nine months 2011, with its events segment leading the way at $436.4 million, up 26.6 percent from the year before. Print revenues fell 17 percent to $135 million during the first three quarters 2011 versus the previous year. For 2010, the company reported overall revenue of $1.39 billion, with an adjusted EBITDA of $294.9 million.
Events make up the largest segment of the company's business, followed by targeting, distribution & monitoring; data services; online (marketing services); and, finally, print.
Meet the Author
---