M&A deal value is up significantly in the consumer media sector so far this year, according to the latest report from investment bank JEGI, while the B2B media and conference/exhibitions sectors both saw declines in deal value and activity compared tot he same period last year.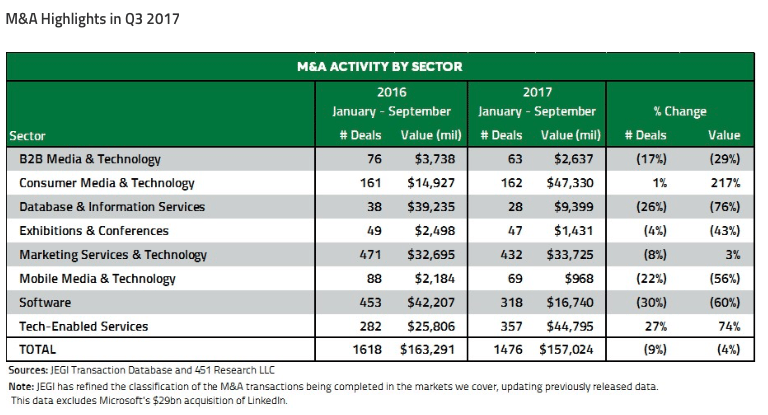 In the B2B media and technology sector, deal value declined 29 percent from January to September of this year, totaling at $2.6 billion compared to $3.7 billion over the same period last year. Additionally, the number of transactions decreased 27 percent through Q3 over the same period. Compared to 25 deals over the same period last year, Q3 2017 saw only 11 transactions in this sector.
According to the report, M&A activity for Q3 2017 was driven by the Elsevier acquisition of Berkeley Electronic Press, a cloud-based software hosting platform, as well as the Amazon acquisition of Graphiq, a data aggregation platform, and Informa's acquisition of Dove Medical Press, an organization specializing in the publication of open access peer-reviewed scientific, technology, and medical journals, among others.
Deal volume in the consumer media and technology sector has thus far remained steady at 162 transactions through Q3 2017 compared to 161 deals over the same period last year, while deal value saw a major rise to $47.3 billion, more than tripling the $14.9 billion recorded in 2016. The report states that the major increase in deal value is a result of several multi-billion dollar transactions in this category, the largest deal being Discover Communications' acquisition of Scripps Networks Interactive for $15.1 billion, as well as Internet Brands acquisition of WebMD Health.
Lastly, M&A deal volume in the exhibitions and conferences sector remained steady, with 47 transactions through Q3 2017 compared to 49 deals over the same period last year. In terms of deal value, however, this category decreased 43 percent at $1.4 billion through Q3 2017, a drop from $2.5 billion over the same period last year. One notable deal, the report states, was Future Publishing's acquisition of Centaur Consumer Exhibitions Limited, a home-building and renovations trade show management service.