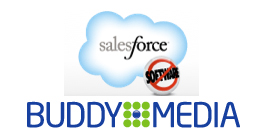 In a deal said to be worth over $800 million, CRM provider and cloud computing company Salesforce will purchase social media software provider Buddy Media. Originally reported by AllThingsD's Peter Kafka, it's believed Buddy Media accepted Salesforce's bid over an offer from Google.
Another report from TechCrunch says the $800 million price tag may be an underestimate, as Anthony Ha writes, "Now our sources say the price may be considerably higher depending on the equity component of the deal. That may put it more in the neighborhood of $1 billion."
The deal follows an overhaul of Buddy's products, including a unified social data API; conversion, campaign and goal tracking across paid, owned and earned social media efforts; and a new mobile content development platform. The company also now offers a social application for Pinterest, as well as social media analytics through a partnership with comScore.
The acquisition is drawing comparisons to Oracle's recent acquisition of social media marketing group Vitrue, a deal valued at $300 million. The purchased companies both bring a social media component to businesses known for other services (Salesforce's CRM is used by sellers throughout the publishing industry, while Oracle is best known for its software offerings). It also brings former Salesforce SVP of industry verticals Susan St. Ledger back to the company, as she now serves as Buddy Media's president.
Buddy Media is used throughout the magazine industry, with major players such as Rodale and Hearst signed on to its services. Prevention tapped Buddy to add sweepstakes and newsletter registration to its Facebook page, while Hearst partnered with the company to produce branded social media applications ("sapplets") for several of its titles.
This deal marks the second major acquisition for Salesforce in just over a year: The company purchased social network monitor Radian6 for $326 million in March 2011.