Report: P&G, J&J Lead the Pack in '09 Print Ad Spending

Some advertisers have bucked the trend by devoting dollars to print.
It's no shock that TNS Media Intelligence's U.S. Advertising Expenditures report, which was released Wednesday, showed print media continuing to see ad page rollbacks: specifically, a 20.9 percent total decline. Among the publishing sectors hardest hit were Spanish Language Magazines (-27.3 percent) and B-to-B (-26.7 percent), with Consumer Magazines faring better (or, less badly?) at 20.1 percent.
Despite another round of bleak numbers for the industry, one bright spot is that this data reports that global advertisers are still spending in print.
TNS Media Intelligence told FOLIO: that Procter & Gamble ranked number one among advertisers devoting the most advertising dollars to magazines in the first half of 2009, spending P&G spent $406.7 million. Despite topping the charts, P&G, as well as other high-ranking Johnson & Johnson, Kraft Foods and L'Oreal, ultimately spent less in the first half of 2009 versus the same period in 2008.
But recession-friendly advertisers Wal-Mart, Unilever and Campbell Soup Co.—ranking fifth, sixth and seventh in ad spending for 2009—did up their print spending. Wal-Mart alone grew from $120 million in 2008 to $128.8 million print advertising dollars this year over last, while others, including Time Warner and Clorox, bucked the trend.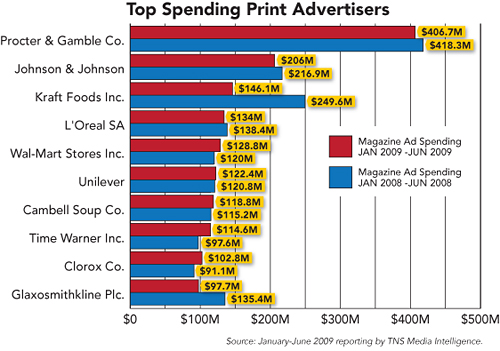 Meet the Author
---