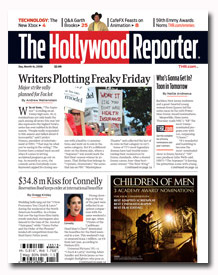 Less than two months after denying reports that it would shut down the print edition of The Hollywood Reporter, publisher Nielsen Business Media is said to be close to selling the trade title along with a number of others.
Citing an unnamed source "with knowledge of the negotiations," TheWrap.com founder Sharon Waxman reported that the buyer is Jim Finkelstein, a former Advanstar Holdings and ALM Media director. Finkelstein owns the "Who's Who" publications and Washington D.C.-based The Hill.
In addition to THR, the deal is said to include Billboard, Adweek, Brandweek and Mediaweek, Waxman said.
Finkelstein, who was traveling Wednesday, did not immediately return a request for comment.
A Nieslen spokesperson told FOLIO: that, as a policy, the company doesn't "respond to rumor or speculation." When asked about the potential divestiture Thursday during an earnings call, the company again declined to comment, but said that "for assets that don't hit the mark, we're always looking to work them out of the portfolio."
In September, Nielsen denied a report that it was shutting down the print edition of The Hollywood Reporter to move the brand online-only. However, Nielsen has implemented a number of cost cutting initiatives at THR and its Adweek Media Group, resulting in a significant number of layoffs. Rumors have swirled for months that Nielsen might fold the group's three titles into one.
Through the first nine months, Nielsen reported a $151 million operating loss for its business media segment, compared to an $85 million operating income during the same period in 2008. Revenues for the segment through the third quarter were $258 million, down more than 30 percent from $371 million during the same period last year.
Overall, the company reported a $100 million operating loss through the first nine months, compared to an operating income of $408 million last year. Revenues were $3.61 billion, a decline of 4 percent compared to last year.