Report: Media M&A Sees Uptick in Q3

Third quarter deal value makes up nearly 70 percent of combined value in 2009.
As a whole, media M&A saw a significant uptick during the third quarter, which might be an indication that deal transactions are on the rebound, according to the quarterly report released today by investment banker the Jordan, Edmiston Group. Deal values spiked during the quarter, with 168 transactions announced and valued at $11.1 billion. Comparatively, there were 300 deal announcements during the entire first half of the year, valued at $5.3 billion.  
Average deal size grew from $18 million during the first half to $66 million in the third quarter, JEGI said.
Through the first nine months, media deal announcements totaled 466, down 30 percent compared to the same period in 2008. Deal value dropped 42 percent to a combined $16.4 billion.
JEGI said strategic buyers accounted for roughly 80 percent of total deal value through the third quarter. Private equity firms, meanwhile, have played on a minor role as many have "been focused on improving profitability and restructuring debt in overleveraged portfolios."
"Eighty percent of private equity firms are spending 80 percent of their time focused on portfolio companies," JEGI managing director Tolman Geffs told FOLIO:. "That means there's a good opportunity for the remaining 20 percent to focus on growth areas, but we think that portion will stay subdued in to 2010."
Of the 12 market sectors tracked by JEGI (see chart below), only two grew through the third quarter. Mobile Media & Technology saw the number of deals increase 56.3 percent to 25 and deal value jump 75.7 percent to $396 million, compared to the same period last year. Education Information, Technology & Training—which JEGI said has benefited from innovation, government spending and "some shelter" from the distressed economy—saw the number of deals (62) grow 14.8 percent and value ($3.16 billion) increase 41.4 percent.
"So far this year, education and mobile have increased against a backdrop for which M&A hasn't grown," said Geffs. "We expect to see a lot of activity also in digital technology; in video and data. Sectors like Database Information Services and Marketing & Interactive will continue to contribute to commercial growth."
The B-to-B Media sector saw only 11 deals announced through the first nine months, a decrease of 45 percent compared to the same period last year, as deal activity was made up primarily of distressed assets. Deal value plummeted 87.1 percent to $51 million. The Consumer Magazines sector was active with 31 announced deals, a decline of 6.1 percent, and deal value mostly flat at $163 million, a decrease of 1.1 percent.
"Groups that have the capacity will look for new growth channels but we're still going to see continued retrading of assets to resolve distress situations," Geffs said.
Although down significantly from the same period last year, the Online Media & Technology sector reported the largest number of transactions (141, down 31.2 percent) and the greatest deal value ($7.57 billion, down 25.6 percent).
Some of the more notable media deals during the third quarter included Silver Lake Investment Group's acquisition of Skype for $1.9 billion and Adobe's $1.8 billion acquisition of Omniture—both announced September 9.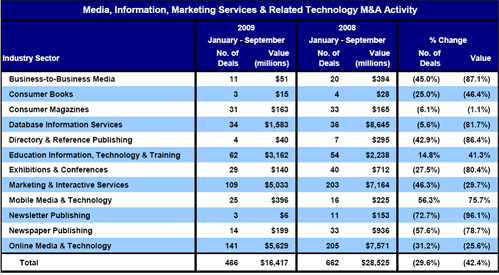 Source: JEGI Transaction Database
Meet the Author
---