Report: Magazines Account for a Quarter of Sales, Profits at Checkout

Magazines, beverages and confectionary essentially drive front end store sales.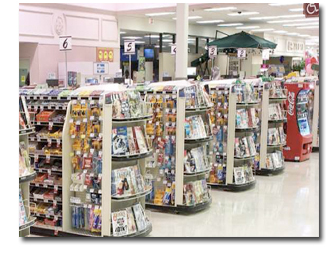 A study called "Front-End Focus" was recently made available by research firm Dechert-Hampe & Company that analyzed front-end performance at more than 300 stores. Magazines, along with confectionary and beverages, made up the "power" group of top performers at checkout.
The study was was conducted in a six-month period in 2008 and was co-sponsored by Mars Inc., The Coca-Cola Company and Time-Warner Retail Sales & Marketing. Six "leading" retailers provided the locations for the research along with SKU data and shopper card data on more than a million front-end transactions.
The report includes information on over 30 major categories, but highlights magazines, beverages and confectionary as the three categories that essentially drive overall sales at the front end.
Outside of standard purchases, the front-end is a busy section of the store, according to the report, which also surveyed 1,300 shoppers on their attitudes and purchase behavior at regular, express and self-checkout lanes. Ninety percent of respondents say that within the last six months they've purchased an item merchandised there.
The survey reports that magazines are part of the tide that lifts all boats. Magazines should be allocated at least 24 percent of checkout space to maximize sales, the report says, noting that both magazine sales and total checkout sales benefit with additional magazine exposure.
Checkout sales can be maximized when magazines are placed both in-line and on the end-caps—as well as on 100 percent of checkout lanes.
While beverages are said to be the power-house category at the front end, having a combination of the top three—beverages, confectionary and magazines—will offer the greatest sales opportunity since those three categories account for 81 percent of sales profits. Magazines account for almost 25 percent of checkout dollar sales, and the same for share of checkout profits.
The front-end check-stands, says the report, "deliver $5.5 billion in sales to supermarkets, but significant opportunities still exist," adding that improving check-out merchandising "could yield an additional $1.7 billion."
A copy of the full report is available via MPA's Web site.
Meet the Author
---