Report: Journalism Jobs Vanish at Three Times The National Rate

Magazines suffer less than newspapers and broadcast.
It may not feel like it but magazines may be a relatively safer gig compared to other journalist jobs. According to Unity's 2009 Lay-off Tracker Report, a survey from Unity Journalists of Color, there has been a 22 percent increase in the number of journalist jobs lost every month from September 2008 through August 2009. That's three times more than the national average, in which jobs were lost at an 8 percent rate each month.
The report says the news industry has lost 35,885 jobs since Sept. 15, 2008 and 46,599 jobs since Unity began tracking journalist cuts since January 1, 2008.
While much of the report pertains to the newspaper industry, no sector is immune. Since September 2008, cuts include 24,511 jobs in print (primarily newspapers), 8,333 jobs in broadcast and 1,172 jobs in magazines.
E-media is no safe haven either, as evidenced by Conde Nast's purge of more than three dozen online staffers last fall and multiple lay-offs within the last couple weeks at Reader's Digest's e-media group, including several editors.
With many publishers facing broken covenants with lenders (even as they company itself may be profitable), it's going to be a while before many employees can breathe easily again, even if we start to see an uptick in print and online that some observers are predicting for 2010 (events however, which many publishers made the core of their business in recent years, will still be down).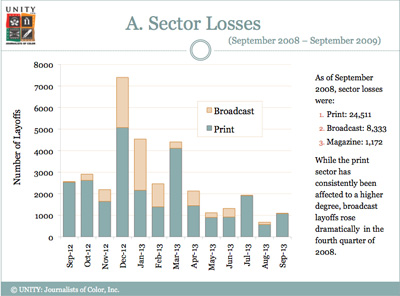 Meet the Author
---