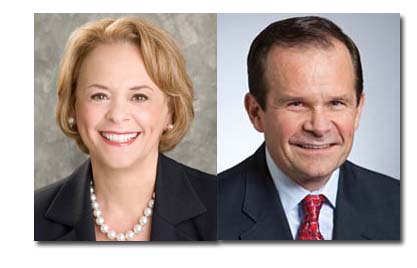 When Meredith Corp. announced Monday that Jack Griffin was stepping down as president of its National Media Group to "pursue another opportunity," the industry scratched its collective heads about why. The women's publisher had just reported a strong fiscal full-year 2010 that "marked a return to earnings growth." The National Media Group reported that in terms of magazine industry advertising market share, Meredith's share increased to 12.3 percent—the highest mark in company history.
What could the opportunity be to lure Griffin [pictured above, right] out on such a positive upswing at Meredith? When FOLIO: asked a spokesperson about it, he said he did not know. A Time Inc. representative could not immediately be reached for comment.
Now, a news report says Griffin is expected to be named CEO at Time Inc., replacing longtime chief executive Ann Moore [above, left], who has led the consumer magazine publishing giant through one of its most difficult points, shedding hundreds of employees over the last few years. The news was first reported by David Carr at the New York Times.
According to the Times report, Moore's contract isn't up until December 2012 but she has said before that she has been "open to leaving earlier if the right person came along." The official announcement about the switch is expected on Monday.
Yesterday, Time Inc. parent Time Warner reported that profits at its magazine publishing unit nearly tripled through the first six months of 2010 to $203 million. Revenues were flat at roughly $1.72 billion. The company attributed the gains to company-wide cost savings initiatives which resulted in lower pension expenses. It also cited higher domestic magazine revenues in print and digital. Advertising revenue during the second quarter grew 4 percent, subscription revenues stayed flat and other revenues dropped 23 percent.
Griffin's move to Time Inc. would mark the latest in a series of high-profile executive changes at consumer publishing companies over the last few weeks. Last month, Condé Nast group president David Carey left the company to take over as president of Hearst, with longtime president Cathie Black moving up to chairman. Subsequently, Condé Nast announced a management reorganization that resulted in consumer marketing president Robert Sauerberg becoming president.