Despite previously held reservations, the Internet ad market is teeming with profitability—revenues grew for the third consecutive year in a row, reaching $36.6 billion for the full year of 2012, according to the IAB Internet Advertising Revenue Report released this month.
The revenue jump represent a 15 percent year-over-year increase from 2011, with the largest growth percentages coming in the third and fourth quarter of last year. The compound annual growth rate has climbed to 19.7 percent, outpacing U.S. real GDP growth of 1.5 percent over the same 10-year period.
The fourth quarter of 2012 was the first time revenues crossed $10 billion—since 2003, 80 percent of quarters have experienced positive growth over their prior year. In addition to strong growth in the fourth quarter of 2012, the third quarter saw revenues hit $9.2 billion, another record high.
Internet advertising is commanding about $13.8 billion more than magazine advertising, and is inching up toward that of broadcast television, which currently sits at $39.6 billion.
Mobile advertising has seen one of the biggest increases, growing by 111 percent in 2012 to $3.4 billion, up from $1.6 billion the year prior. Mobile revenues now total 9 percent of FY 2012 revenues, which represents a triple-digit percentage growth each year since PwC U.S., who conducts the study on behalf of the IAB, started capturing mobile data in 2010.
"These record-breaking numbers represent a paradigm shift when it comes to marketers recognizing the role a multiplicity of screens plays in effectively reaching today's consumers," Randall Rothenberg, president and CEO of IAB, says in the report's executive summary. "Mobile, in particular, soared due to its ubiquity and intrinsic ability to serve as a powerful digital dashboard that travels with you from a morning commute to nighttime video viewing and beyond."
Search is still claiming the largest share of revenues at about 46.3 percent in FY 2012, climbing to about $16.9 billion, a jump of about $2.1 billion from the year prior. Display-related advertising accounted for 33 percent of total revenues during FY 2012, a 9 percent increase to $12 billion.
While revenues are growing at a rapid place, market allocation continues to be severely concentrated. The top 10 leading ad-selling companies account for 72 percent of total revenues in the fourth quarter of 2012, with the companies ranked 11th to 25th accounting for 10 percent of revenues for the same period. Companies ranked 26th to 50th accounted for 7 percent of all revenues in the fourth quarter.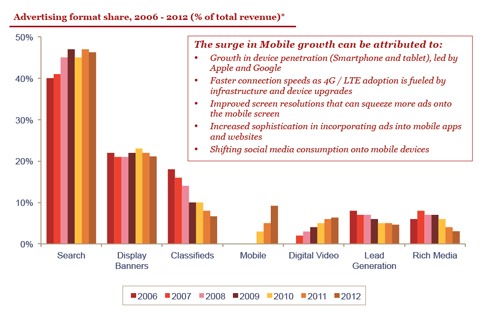 Click to Enlarge
Stay updated on the latest FOLIO: news, follow us on Facebook & Twitter!