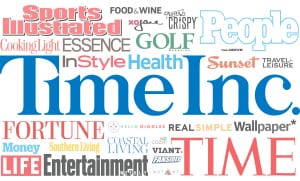 Yet another round of layoffs has arrived at Time Inc. as the legacy print publisher's often painful transition to digital media rages on.
A Time Inc. spokeswoman wouldn't comment on the number of staffers let go, but a Politico source states that around 40 editorial staffers are being cut across several titles.
These latest cuts come less than three weeks after Time Inc. laid off over 100 staffers across various departments, including sales and marketing, and readjusted its 2016 revenue growth forecast to between 0 and 1.5 percent — all of this amid extensive restructuring that's seen the elimination of the "publisher" position and the unification of sales teams to more easily sell across categories instead of brand-by-brand.
A Time Inc. spokeswoman wouldn't confirm the number of staffers let go, but tells Folio:, "These changes are part of the ongoing realignment of Time Inc. that began last month. Our goal is to operate as effectively and efficiently as possible across our editorial operations while optimizing areas for growth across the company."
Sports Illustrated senior NFL writer Don Banks, who has been with the company since 2000, is among those leaving.
"I'll be leaving the SI staff on 9/2," Banks tweeted. "Ironically enough, after all these years of NFL coverage, turns out I'm a bit of a salary cap cut."
Real Simple Editor Departs

Separately from the layoffs, longtime Real Simple editor-in-chief and TIME columnist Kristin van Ogtrop is leaving the company, also on Sept. 2, according to memo to staff this morning from chief content officer Alan Murray and vice chairman Norm Pearlstine.
According to Adweek, executive editor Sarah Collins will serve as interim editor-in-chief until a permanent replacement is found.
It's the second longtime editor-in-chief to step down from a Time Inc. title in as many months, following Ariel Foxman's resignation as head editor of InStyle in July. Van Ogtrop had held the editor-in-chief role since 2003, when the women's lifestlye magazine was just three years old.
This is a developing story.
I'll be leaving the SI staff on 9/2. Ironically enough, after all these years of NFL coverage, turns out I'm a bit of a salary cap cut (2/3)

— Don Banks (@DonBanks) August 21, 2016