According to a report by Distimo, an analytics firm that tracks and compiles app store data, Apple's Newsstand feature has become a significant source of revenue in Apple's app ecosystem. After six months on the market, the Newsstand now generates $70,000 a day in sales.
That figure is produced by the top 100 selling publications. Indeed, according to Distimo, the Entertainment and Games category still dominates sales, with 50 percent of all top paid apps being games, but the Newsstand has been accounting for a growing slice of the revenue pie. Seven percent of the top grossing apps are on the Newsstand.
The revenue is primarily coming from in-app purchases—a feature that has  become important particularly for the iPad. Distimo says 10 percent of all App Store iPad apps have in-app purchase capabilities compared to 6 percent in the iPhone App Store and 2 percent in Google Play.
In the 200 top-grossing apps, 74 percent of them feature in-app purchasing in the iPad App Store. According to Distimo, there were 180,000 apps available in the iPad App Store as of February.
The top-grossing Newsstand apps in February were: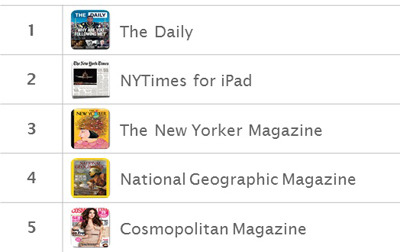 Source: Distimo report, "iPad—Two Years in Review"
From a global perspective, the U.S. is the top-grossing country for paid app revenues. The top 200 grossing apps bring in $2 million per day worldwide. China, however, has passed the U.S. as the largest market for free apps. In February, daily downloads of the 300 most popular free apps in China passed 1.1 million. In the U.S. it was just under 1 million.