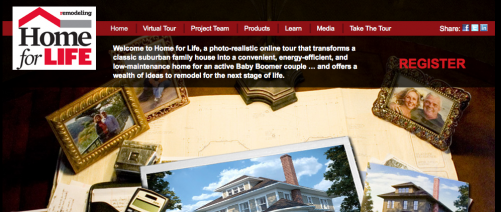 REMODELING magazine announced its launch of "Home for Life 2013," a virtual tour showing how to remodel a home to be cost-efficient, safe and comfortable for life after retirement.
The virtual tour will be targeted towards members of the baby boomer generation entering their retirement years—nearly 30 percent of the U.S. population. A study by AARP found that 84 percent of boomers want to stay in their homes during retirement, but only 16 percent have adapted their home for retirement.
Rick Strachan, group president, Residential Remodeling at Hanley Wood explains that the targeted audience for "Home for Life" has two audiences in mind. "We saw a very significant need for serving both trade and consumer audiences in the field of retrofitting homes for retirement," says Strachan. "Creating this tool would allow reach to both of those audiences." Boomers are the largest customer group for these professionals. "As of today, 44 percent of all home improvement expenditures are coming from baby boomers," he says.
According to Strachan, Hanley Wood has done many show-home projects, building homes for demonstrations. But it wouldn't be possible to demonstrate home improvement projects for already exiting homes, and the virtual tour can show many different improvements. "Moving walls to accommodate wheelchairs, showers without a step-up, even residential elevators for multiple-story homes" were just some of the examples Strachan gave of renovations shown in the virtual tour that would be impossible in the show-home.
Another study by AARP showed that baby boomers and seniors are more active on the Internet than expected. The study showed that the most important online activity for this demographic is watching videos, and the virtual home tour uses that to its advantage. According to the survey, 75 percent of boomers and 68 percent of seniors take an action after watching a video.
Strachan explains that sponsorships are sold to building product manufactures and featured within the virtual tour. Visitors will be able to view more information and link to the product's website. And will be able to make purchases once on the page.
The "Home for Life" virtual tour originally debuted last year, with over 26,000 unique views on the tour's website and generated 7,000 registered leads. Many improvements have been made to this year's version, including integration with the REMODELING website and social media.