Relaunching a Magazine—With Tears

Victoria's indie return.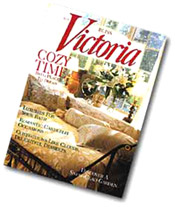 The relaunch of Victoria is a dream of mine! I was one of the disappointed subscribers who felt as though a friend was gone when the magazine was closed. Victoria has a passionate readership of women who love every tiny detail of life. The magazine was a visual vacation for us and was a retreat from the hectic daily pace.
First, my challenge was prove to the prior subscribers that the magazine would be like the original magazine they loved dearly. Matching the voice, tone, physical presentation and spirit of Victoria was a concern that was voiced on blogs. Great skepticism existed regarding our ability to do that. Second, we have to prove that we were serious about the magazine and that it was not "going away" from them as the original magazine did. Hoffman Media was not known to the majority of the readers and they wondered who we were and where had we been all this time.
We were able to locate former staff members (hired one as the managing editor, Brittany Williams) and former freelance writers and photographers. We had hundreds of letters from readers requesting that we return many of the writers and columnist that they wanted. Finding them is not easy as many are working for other publishing companies or have retired altogether.
Relaunching on the newsstand was simply starting over … we didn't have an existing bi-pad to utilize. Curtis did a great job for us. Many of the buyers did not remember Victoria so we put great efforts into the "launch/relaunch."
With the relaunch, the magazine has been received with the same loyalty and enthusiasm as before. I have received cards, office calls (tears and great emotion), along with flowers and calls to my home from women who are beyond words of gratitude of Victoria's return. It has been overwhelming for me.
Meet the Author
---