Relaunching a 116-Year-Old Association Magazine

Hammock Inc. revamps, repositions DAR's American Spirit for the newsstand.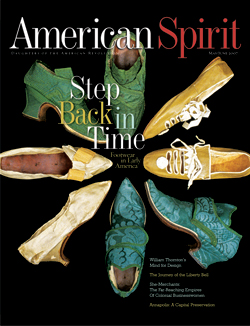 Project: American Spirit
Publisher: Hammock Inc.
Launched: 1892
Circulation: 40,000
Objective: To relaunch, reposition and modernize a magazine that's been around since 1892.
It's always a challenge for a publisher to modernize a magazine that's been around for ages. It's even more challenging when it's for a non-profit client.
When Nashville-based Hammock Inc. was tapped by the National Society Daughters of the American Revolution to publish its bi-monthly magazine, American Spirit, the task was a formidable one. Not only was Hammock charged with relaunching an association magazine that's been around since 1892—1892!—it also carried the task of repositioning the 116-year-old magazine as a consumer brand with newsstand distribution.
Hammock's editorial and design teams worked with DAR to define the audience and mission for the 41,000-circulation magazine. They agreed that American Spirit "should be the kind of magazine you would want to leave out on your coffee table" and that the design should rival any consumer magazine, according to John Lavey, president and COO of Hammock.
In order to broaden its appeal, he says, the magazine had to be produced with younger readers in mind—incorporating modern values into an association publication that has outlived many of its members—while staying true to its core mission: women's history, genealogy, education, patriotism and preservation. Hammock also helped American Spirit make a major concession: that the women's health and financial affairs content that the magazine had been peddling did not the editorial mix. "The more we talked with members, the more we felt readers could, and should, go elsewhere for that information. American Spirit should focus instead on the National Society's core concerns," says Lavey.
The editorial strategy was one of moving beyond Revolutionary history—and to humanize it, with articles ranging from features on historic homes, collectibles and Americana to regular articles on historic travel, crafts and preserving family history.
New Revenue Strategy
Hammock partnered with Ingram Periodical to get the magazine in national bookstores—which turned out to be a surprisingly easy sell. "When you walk into a bookstore, the history magazines—there's lots of Third Reich, lots of Civil War, World War II, " Lavey says. "Not that American Spirit is a pure-play history magazine, by any means, but it covers a niche that they don't have."
Unlike some association magazines, DAR's 170,000 members pay for subscriptions to American Spirit—so any increase in circulation would translate into significant, immediate revenue, Lavey says. (The base price of a subscription is $18 per year.)
Hammock has managed to grow American Spirit's circulation considerably, roughly 12 percent year-over-year, Lavey says, and 30 percent since the initial relaunch in 2002. And while the magazine's single copy sales at the newsstand have been insignificant (a few thousand copies per issue, Lavey says) the fact they are on the newsstand is a key part of the marketing of a magazine as existing in the same qualitative stratosphere as other consumer titles. "It's about getting the magazine out there," he says.
And while advertising is not a primary part of its revenue mix, Hammock has managed to grow advertising revenue 20 percent this year over last.
Meet the Author
---