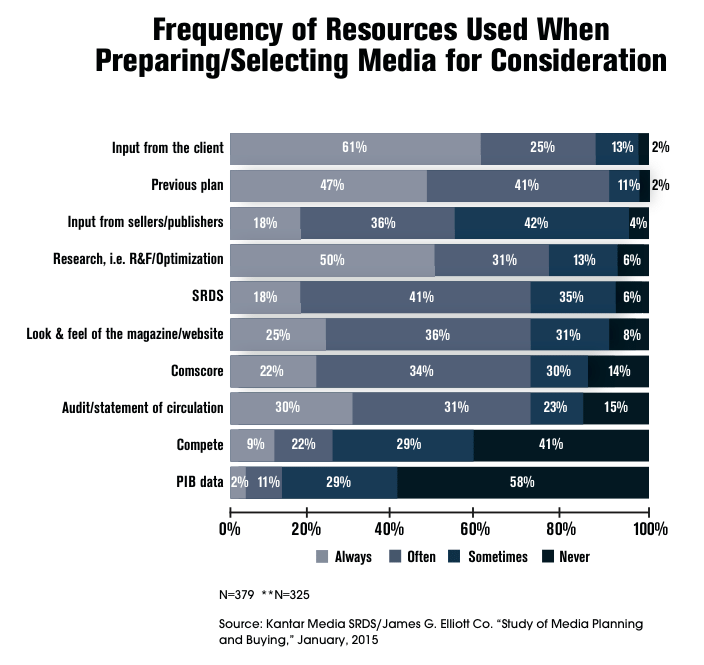 Now in its second year, the Media Planning and Buying Study conducted by Kantar Media SRDS and ad rep firm James G. Elliott Co. continues to shed new light on how media buyers and planners are conducting business with magazine media. The study notably pointed out last year that publishers may be getting caught flat-footed as agencies looked for more buying efficiencies. That dynamic is now more prominent as publishers, for the most part, are strategically lethargic in the face of an ad buying market that's gaining speed at their expense.
The study was completed in early 2015, with invitations sent to 8,697 individuals at agencies. A total of 379 completed the survey, for a response rate of 5.3 percent.
If last year's survey confirmed that buyers are in charge of bigger budgets, more clients and more campaigns, this year's results show those limits are being stretched even further. Respondents on average recommended or helped purchase $25.9 million in advertising in the last year. In the 2014 survey, that number was closer to $19 million. "I don't think that's because the ad business is getting more robust, they're giving more responsibility regularly to these media planners," says Jim Elliott.
On average, respondents have a four-client caseload, with just over half working on three or more, and the average number of brands is six—up slightly from last year's five. Fifty-seven percent of respondents work on four or more brands.
While 53 percent of respondents say they worked on planning/buying schedules with an annual frequency in the last year, the next most worked on frequency (51 percent) is "sporadic," with no fixed time. That's up slightly from last year's 49 percent, and indicates a market that's operating on a "just in time" basis.
"I shared the study with our agency advisory board and when they saw that slide they all started laughing," says Steve Davis, president of Kantar Media SRDS and Kantar Media Healthcare. "Who does annual planning anymore? That's largely from a digital mindset now. 'What's the marketing agenda this quarter and how do I execute that quickly?' Everything becomes a fire drill from there."
Why is that worth noting? Because sellers need to keep the pace. Relationships still matter, but the days of strolling through a consultative approach are becoming endangered. The sell-side workforce has to adjust to the new realities of sporadic, just-in-time sales cycles that are more data and ROI focused than ever.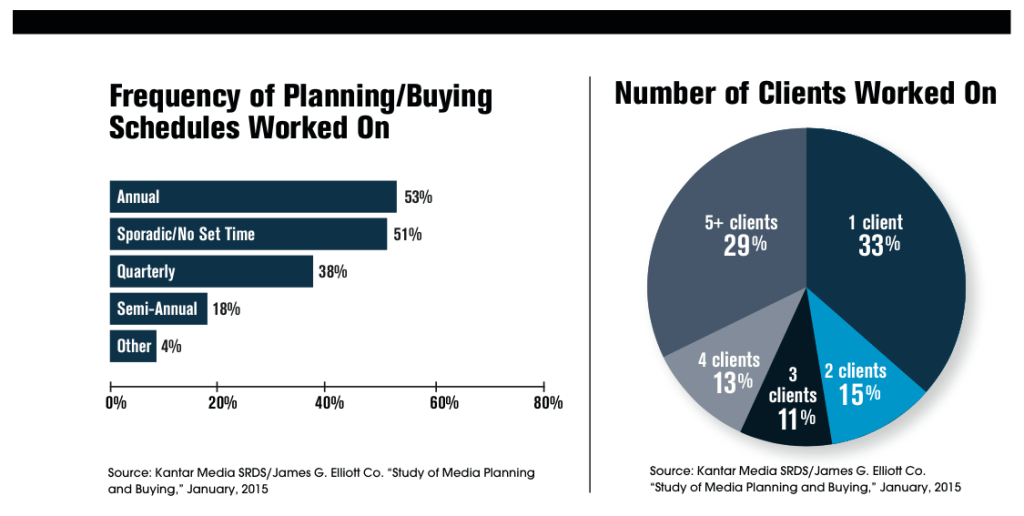 "Having a sales team that can respond to that is critical," says Davis. "Most would recognize that now, but I'm not sure [publishers] are adjusting their workforce as quickly as the industry is moving. Many still think this is a relationship market, that they'll be invited in to consult. The buy side is saying the opposite."
It's not that strategic selling, relationships and consultation are no longer valued or important. Rather, buyers simply don't have the time. So when sellers do get a meeting, the pressure is on to hit the target the first time. While 79 percent of respondents say that RFPs are still "extremely" or "very important," only nineteen percent of them "always" or "often" give sellers a second chance to change their proposal.
Further, 86 percent of buyers (always or often) rely on input from the brand. This means the seller has to put a premium on being able to speak to the client's agenda. Having a chance to meet directly with the brand might be getting more difficult, but publishers have to gain some insight into a client's marketing needs. Bottom line: Bring value to the meeting.
But don't go crazy. The buy side's love affair with efficiency is putting a premium on campaign structures and media brands that have a proven history. Fifty-seven percent of respondents only "sometimes" use custom ideas or programs proposed by sellers, and a quarter of buyers (26 percent) "never" include a previously unknown magazine or website on a schedule. Sixty-six percent "sometimes" do, though.
And we can't talk about advertising without talking about programmatic. According to the survey, 55 percent of respondents expect programmatic to be at least 15 percent of their 2015 budget. That might seem low, but you can't use programmatic to accomplish everything. Buyers need to work it into the discussion nevertheless. "If any publisher is feeling like they don't want to get into programmatic because they're scared of it, that's a decision they make at their own peril," says Davis. "The discussion has to be about both brand and audience and how some of the inventory can be traded electronically. Good sales pros will do both. You can't duck it."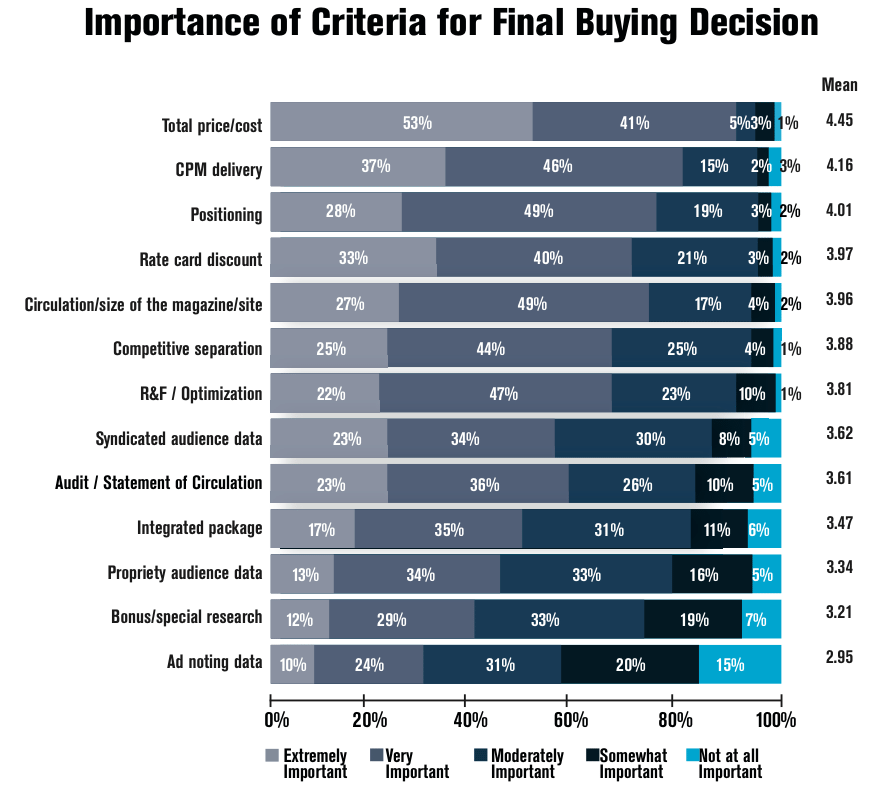 ​