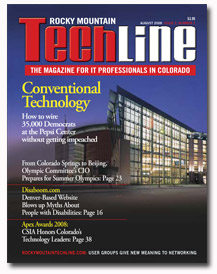 A new regional magazine for Colorado's IT community is set to launch in August.
The 10,000 circulation-title, Rocky Mountain TechLine, plans to leverage the more than 11,000 computer-related enterprises in the state, according to Eric Wolferman, who will head up the publication and its corresponding Web site as editor and publisher.
"While there are numerous general publications aimed at the business of information technology, there is none that informs readers about what is going on in their own backyard," Wolferman told FOLIO:. "The majority of technology-related business target customers that are within a tighter sphere than the entire country or the world. Likewise, local and area enterprises with IT needs are more likely to engage providers that are closer to home."
The cover price for the monthly title will be $3.95–$24.95 for an annual subscription—but the magazine will be mailed free for the first year to technology-related executives and workers in the state, according to Wolferman. "Eventually, the magazine will develop a newsstand presence," he says. "As we become more familiar to readers, and as they recognize the value of the information we provide, we will begin to convert the audience to a subscriber base.