Regional Singles Magazine Launches

Singular to be direct-mailed in the Los Angeles area.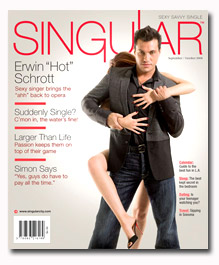 Freelance journalist Kim Calvert, along with financier David Wright, today is launching Singular Communications, publisher of Singular, a magazine for singles.
According to Calvert, who also serves as editorial director, Singular aims to "create and serve a large and fast-growing community for like-minded singles who have active social lives and are comfortable with their single lifestyle."
The bi-monthly glossy title will be direct-mailed to 63,000 single people aged 30 or older in the Los Angles area. With a cover price of $4.95, the magazine also will be available through subscription and on newsstands.
"We are the first media company to speak to single customers in a way that relates to and affirms their lifestyle choice," said Wright. Today, over half of the California adults are currently single—we represent a powerful force and we're excited to build a community through this magazine and our online destination."
In addition to the print magazine, Singular Communications will produce Singularcity.com and SingularCity-branded events.
Meet the Author
---