A Regional's Content Facelift Yields High Returns

How Northshore rethought the staff formula.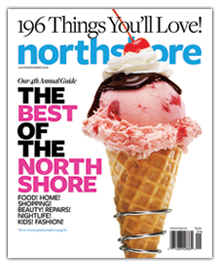 When RMS media purchased Northshore in the spring of 2005, "It was a staple-bound, 36-44 page advertorial-format magazine that looked like a direct mail piece," says RMS Media Group president Rick Sedler. The then four-year-old title, which served as a regional lifestyle magazine for the North Shore area of Boston, was acquired from an independent self-publisher for approximately "an eighth of its total worth today," says Sedler. At the time, a mostly freelance staff was orchestrating the final product, which had a circulation of about 15,000.
But Sedler had bigger plans for the regional title. Upon purchase, he expanded its circ to 30,000, including 25,000 sent  to subscribers and via direct mail, 2,500 newsstand copies and 2,500 event/hotel copies.
It wasn't until 2009, a time that much of the industry would rather forget, that Sedler made the strategic decision to increase his staff. Ultimately, the magazine has realized second quarter growth of 10 percent over the same period in 2008, says Sedler, bouncing back from a 20 percent loss in the first quarter of 2009. The magazine also hit advertising, circulation and production targets for the first half of 2009.
Culmination of 'Connected' Hires
Northshore's success, says Sedler, is a combination of factors including the culmination of recent decisions like hiring "connected" and "experienced" staff, and building on the magazine's track record with advertisers. Despite layoffs across the industry, the Andover-based title recently hired full time staff to replace its freelancers, including a director of new media, a creative director, a designer and two new sales people. Its new creative director is a former creative director from Boston, and its director of new media is a former FOX TV affiliate new media Web site expert. The move from freelance to full-timers increased the staff by 60 percent, says Sedler.
 
Removing Weaknesses
"If you can focus on taking out the weaknesses in your business, it's a formula for success," says Sedler. "We looked at all parts of the business that were our weaknesses and worked on correcting them and building out fresh new ideas." In addition to deciding to triple its photo budget, Sedler also worked to add sections to Northshore's formerly "lackluster" Web site. These included a business directory, sponsored e-mail marketing campaigns and banner ads, which implemented over the past nine months have helped boost site traffic threefold.
The title has additionally worked to make connections between its Web and print assets, tying its online stories and promotions back to the magazine in hopes of driving readers to nshoremag.com. "We turned our weaknesses into value propositions," Sedler says.
Higher Growth Goals
The August/September "best of" issue has reaped the cumulative benefits of Sedler's new staff and editorial modifications, showing a 25 percent increase in sales revenue over any previous issue. This success in the sales realm makes its 2009 "best of" issue its most profitable to date.
"We had four people selling on this issue as opposed to two," he says. "While of course there are increased costs by bringing people on board, I put higher growth goals in place."
If the growth of its assets continues as expected, Sedler anticipates Northshore's circ to grow by 10 percent through the end of the year.
Meet the Author
---