Regional Publishing: Not So Recession-Proof

The 2008 economic downturn has hit regionals, with varying effects.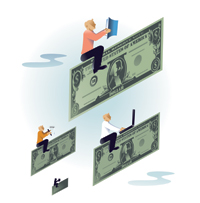 Throughout the turmoil on the national publishing landscape, the regional magazine market was one of the few bright spots in the industry. Taking advantage of a lower barrier to entry, regional publishers over the first six months continued launching print editions—including many vertical launches such as business journals, home/design magazines and luxury titles. According to MediaFinder.com, regionals was the second biggest category in 2008 in terms of launches (there were 24, although that's down from 42 launches a year ago).
But as the bottom fell out of the U.S. economy, some of the ill effects that rocked the national market began spilling over into regionals, too. "No one in the world is immune to what's going on right now, but regionals certainly are less vulnerable than a lot of national magazines," says Michael Carr, president of Las Vegas-based regional publisher Greenspun Media. "When times are challenging, readers want to know what's important to them within five miles of their front door. That's where regional magazines, which are closer to the markets they serve, make a difference."
Greenspun, which has magazines in 19 luxury markets, has felt the pinch. This fall, the company reduced its workforce in a streamlining initiative (at Greenspun and subsidiary Niche Media) that reduced its printing operation from five locations to two and its printing operation from "several" locations to one, says Carr. Niche Media also folded Atlanta Peach in early December.
Confronting Challenges
Generally, regional publications have responded differently to economic slowdowns than national publications because regional advertisers are not impacted by the same issues as national advertisers, says Kim Mac Leod, president of Regional Media Advisors, an M&A advisory company for the regional market. Each type of regional magazine—city or area-focused lifestyle, alternative newsweeklies, business journals and special interest, to name a few—has its own challenges.
For instance, regionals whose revenues have been derived primarily from severely hit advertising categories have been impacted most. According to the Jordan, Edmiston Group managing director Tom Pecht, there were three big "waves" of advertisers that "turned down their faucets" in 2008: real estate, banking and upscale jewelry.
"Regionals that have been reliant on real estate advertising, especially in places like Florida and Arizona, were the first to feel the effects," Pecht says. "So many had become dependent on developing sections, like multiple-page supplements, that were pure real estate. Now, they're taking a hit there. If you were tied to certain areas in which the advertising faucets have dried up, you're going to be swimming upstream for a while, trying to keep your head above water."
Even general interest city titles haven't been immune. "Our advertising revenues, both national and local, are down double digits year-to-year," says Emmis Publishing president Gary Thoe. Emmis—which publishes several regional magazines including Texas Monthly, Indianapolis Monthly, Atlanta and Los Angeles—this summer reduced 4.5 percent of its workforce and, in November, cut corporate salaries 3 percent for employees who earn more than $50,000 per year.
"Like other publishers, we are dealing with smaller revenue streams," Thoe says. "It is very difficult to forecast even the next 60 days, much less the next year."
Long-established regional titles with paid circulations, while "hurting to some degree," are faring better than newer titles that serve super niche markets, says City and Regional Magazine Association executive director James Dowden. "Our sense is that member ad page counts are flat to negative 6 percent to 7 percent through November," Dowden tells FOLIO:. "That's not bad considering what we are hearing about nationals and other media. However, we are all concerned about going forward as consumers continue to hold back."
Even some of the older titles are having a challenging time, especially in saturated local markets. "Oklahoma Today is in its 53rd year, and as recently as 20 years ago we were the only game in town," says publisher Joan Henderson. "Now there are more than 10 free magazines in our market. We have to stay sharp and always work on our visibility."
M&A Activity Slowing
While regional M&A activity continued quietly into the third quarter—including the September sale of Wyoming-based tourism media group Yellowstone Journal Corporation, which publishes Yellowstone Journal, to Backpacker publisher Active Interest Media—but slowed by the fourth quarter due to the tightening credit markets.
Regional titles tend not to be as debt-leveraged as b-to-b publishers. "A good deal of regional magazines are still owned by entrepreneurs. As long as these books aren't costing their owners any cash to subsidize their efforts then there's no big rush to sell," Pecht says. "I don't see a lot of activity here for the next year or more."
But that's not to say the market will come to a screeching halt. "Everyone is waiting for the world to settle back on its axis and resume turning," Mac Leod says. "Sellers are waiting for the word that the race has once again started and for whatever softness they are experiencing to abate. Buyers are waiting for the lenders to come back to the table so they can go back to buying."
Some deals are still possible, depending on the buyer. "Deals are still getting done with buyers that can acquire without the need for outside financing or with sellers and buyers who are committed to exploring a creative, win-win deal structure," says Mac Leod.
Looking Forward: The Keys to Success
So, maybe the regional magazine sector wasn't as recession-proof as some might have thought. Still, the market has a unique opportunity to leverage advertisers in effective ways. "We have some important advantages over other publishing sectors," says David Lipson, president of Metrocorp, which publishes city magazines including Philadelphia and Boston. "Most of our clients are locally owned businesses and we know the owners. We can sit down and discuss a variety of options that can help them through these difficult times."
This holds true for larger publishers who can attract national advertisers that have local outlets. "For national advertisers, we provide advertising and promotional support that's closest to the sales transaction," Lipson says. "In Philadelphia, we've done in-store promotions that have created as much as $100,000 in sales in a single store in a single night."
Depending on the market, regional publishers also can expand their footprint by launching pointed ancillary products, says Mac Leod. "The uniqueness of regional publishing is that it can leverage brands and advertisers more nimbly and quickly than a national publisher—with brand extensions, ancillary products and services—that go deeper into the same market and leverage resources most effectively," she said.
A good example of this, according to Pecht, is Wick Allison and his Texas-based D magazine group, which includes spin-offs D Home, D CEO, D Weddings and other specialty and custom magazines, as well as local newspaper group People Newspapers. "He [Allison] has managed to capture the upscale, local and national advertisers in D and then target those same advertisers with businesses in specific neighborhoods with the newspapers and other magazines," Pecht says. "He can capture a larger slice of that available local dollar."
But regionals, like their national counterparts, should also re-examine the fundamentals of their business, says Greenspun's Carr. "The client and customer are the most important people to us," he says. "We have to embrace them and be thankful for working with them. The people who understand that they serve the market and the market does not serve them, will do well."
Meet the Author
---