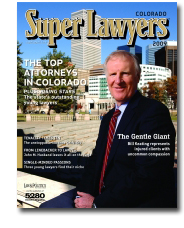 Minneapolis, Minnesota-based Key Professional Media has sold its group of Super Lawyers magazines to Thomson Reuters. Super Lawyers—a listing of attorneys from more than 70 practice areas—is published as a supplement in newspapers and city magazines in all 50 states.
Financial terms of the deal were not disclosed. Super Lawyers will become part of Thomson Reuters' legal and business of law group and will be led by vice president and general manager Barb McGiven.
"There's nearly perfect integration between Super Lawyers and Thomson so nearly all 75 employees will retain their jobs," founder and former publisher Bill White told FOLIO:. White said he and four member of the senior management will not make the transition to Thomson Reuters butinstead will remain with Key Professional Media.
At the same time, Key Professional Media said it was shutting down bi-monthly Minnesota Law & Politics and Washington Law & Politics, a quarterly. Both Law & Politics publications carried circulations of approximately 16,000.
The goal for now, according to White, is for Key Professional Media to continue publishing Super Doctors, a similar listing of top doctors that publishes in Florida, Kansas City, Los Angeles, New York and Texas.