For a Regional Magazine, Print is Still the Main Source of Income

Berkshire HomeStyle—a case study.
When you read the literature of journalism these days you might think that you must hurry to carve out your place in the digital world. That may be so for newspapers, but it is not so for magazines, particularly not for regional magazines.
Berkshire HomeStyle is a controlled circulation regional magazine distributed in our core region of the Berkshires and Columbia County, as well as in Northern Connecticut and Dutchess county, the Capital District (Albany, Troy, Schenectady) and in Saratoga, an area approximately 50 miles from its central location in Austerlitz, New York. The magazine started in 1989, grew steadily until 2008, had a significant decline in 2009, and seems to be climbing back to steady growth in 2011.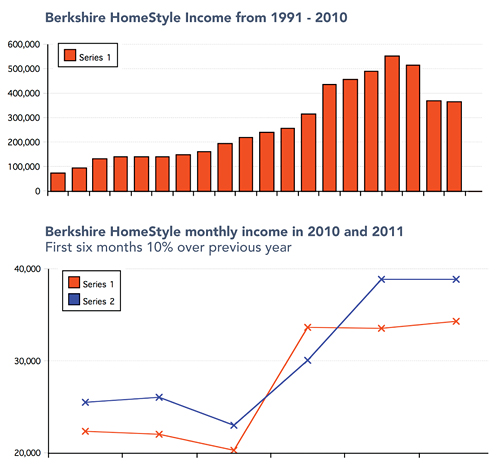 Where Are We Now?
Two events affected publishing in recent years, the economic meltdown in 2008 and the appearance of the social network. They are not directly related, but the confluence of these two events does throw some confusion into thinking and planning.  
If the economic meltdown was the result of many years of "irrational exuberance" then the correction is a natural one. Whether housing or retailing or advertising revenue, a correction of 25 percent to 30 percent is reasonable. And as to the future, we need to understand that growth will not be at the heady rate prior to 2008. Berkshire HomeStyle will probably continue to grow at 10 percent in 2011. That is a good growth rate for just about any business.
The Social Network
All the buzz these days is about Facebook, Twitter, LinkedIn and many others, all under the umbrella of the social network. This is certainly a humongous change in communication technology. It is so vast and so varied that the chances of a small, regional magazine to be on top of those developments and to harness them are very slim. Besides, if our print advertising can grow at 10 percent, say from $35,000 a month to $38,500, that's a lot better than a 20 percent growth in Internet advertising, from, say $3,000 to $3,600.
Berkshire HomeStyle has had a website since 2001. In 2010 we went online through Page Turn Pro. We do not sell ads on our online edition. Creating the administrative machinery to sell and service them is, at this time, just not profitable. We do use the Internet for marketing, but we avoid spending more than we can hope to recover from plunging into the brave new world of online.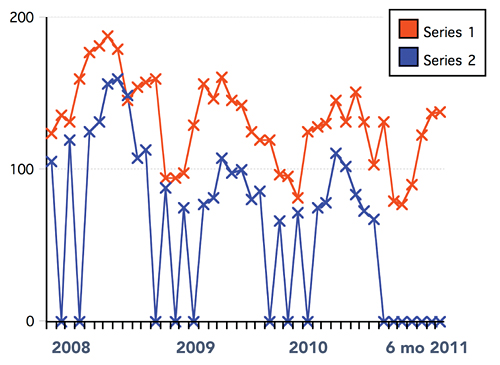 2008 – 2011 Comparison with Competing Magazine
Berkshire HomeStyle's experience during these difficult years is quite likely similar to that of most magazines. In the Berkshires, HomeStyle had one direct competitor, also a monthly lifestyle magazine with nine issues a year. The graph below compares ads sold by both from 2008 to June 2011. The upper line is Berkshire HomeStyle and the lower line the competitor.
The upswing each year illustrates the seasonal nature of the region—a major influx of second homers and tourists in the summer season. The bottom line x's are the months when the competing magazine was not published (it folded at the end of 2010).
During the three full years we can see that the drop in advertising sales was quite similar for both magazines. For the month of July, for example, the peak month in this region, HomeStyle had 188 ads in 2008, 161 in 2009, and 146 in 2010. The competitor had 157 ads in 2008, 108 in 2009, and 111 in 2010.

Can Online or Digital Publishing Make Up for the Declines?
In this case, the simple answer is no. Towards the end of 2009 the competing magazine took out full page ads saying "Now, more than just a magazine." They were alluding to their various online publications. Since the magazine folded a year later, we might conclude that online did not rescue them. Our own experience with online is not very encouraging either. Visits to our online edition were 454 in January, 325 in February, 709 in March, 483 in April and 262 in May.
Berkshire HomeStyle has opted to stick with the printed magazine. The brave new world of the Internet is still in the throes of development. Whether it's PageTurn Pro developing its software to be more user-friendly or one of hundreds of their competitors coming up with a better system, there will be a better system. Whether Kindle or iPad will offer the best way to see Berkshire HomeStyle online, one of them or any one of hundreds of others will vie for Berkshire HomeStyle's content.
Potential for Growth
Berkshire HomeStyle today is the same monthly regional magazine it was in 2007. Total sales then had peaked, after 17 years of steady growth, at $553,491. The economic tsunami in 2008 took us down to a low of $367,534 in 2010. Today, having weathered the storm, we plan to continue our growth. The world today is quite different from 2007. The economy is sluggish. Housing, a major measure of confidence, will be bad for years to come. Unemployment will remain high for a while.
Yet, well-managed companies, whether large corporations or small magazines, will prosper.  Berkshire HomeStyle's growth will probably continue at the pre-2008 annual rate of around 10 percent, keeping the advertisers we have and gaining new ones in the course of our region's normal business. In addition there are some major new growth areas.
One growth area is regional expansion. Three months ago we hired a new sales rep to service northern Connecticut. The results are promising, and could bring as much as 5 percent in additional sales. Just last month we started a new division headed by our new Fashion and Style Editor. That may add as much as 20 percent to annual sales within two or three years. Our ad sales, as they have developed over the past 20 years, are heavily concentrated in home-related goods and services and in the arts. The first accounts for 27 percent of all ad sales, the second, for 24 percent. Our new Fashion division may well develop to be a major division much like Home and the Arts.
Strange as it may seem, the brave new world of the Internet may well be one of our major sources for growth.  One of the terms that have been coined to describe the struggle for a place in the sun among the plethora of providers is "competition for eyeballs." The magazine holds up very well in that competitive arena. There is the pleasure of holding a well-designed magazine and of reading intelligent and carefully edited text. And then there is the kind of world we want to live in. For the foreseeable future, the good magazine is likely to prevail.
Henry Meininger is editor and publisher of Berkshire HomeStyle. 
Meet the Author
---