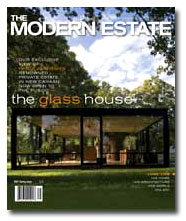 A pair of luxury New York-area regional magazines—the Modern Estate and Suburban Classic—have joined to form a new company, Elite Media Holdings, to leverage their affluent readership.
The quarterly titles have a combined distribution of more than 70,000. The Greenwich, Connecticut-based Modern Estate, which won a Gold Eddie from FOLIO: in September, is mailed to luxury home owners and industry professionals in the greater New York area. It is also sold at bookstores and newsstands in Connecticut and NewYork. New Jersey-based Suburban Classic, geared towards affluent families, has 10,000 paid subscribers and is also distributed at high-end locations in the region, with a total circulation of 40,000.
According to the newly formed company, it made perfect sense to combine resources and offer more opportunities to advertisers since both magazines target high net worth individuals in the same region.