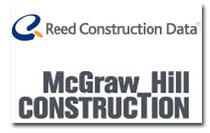 Reed Construction Data, a unit of b-to-b publisher Reed Business Information, has expanded the lawsuit it filed in October charging corporate espionage against McGraw-Hill Construction Dodge.
RCD's amended complaint, filed Friday in federal court, alleges that Dodge also used access to RCD's database to misappropriate its construction information by downloading hundreds of project-related documents. After viewing "specific details for thousands of construction projects," RCD charges that Dodge subsequently used the information to populate its own database.
According to RCD's original 60-page complaint, it claims Dodge unlawfully accessed confidential and secret trade information from RCD by hiring consultants to subscribe to RCD's confidential data, using made up names and fake companies. It also alleges that Dodge manipulated the RCD information to create "misleading comparisons" between Dodge and RCD's products and services "in an attempt to mislead the marketplace."
The RCD complaint cites 11 counts of misconduct by Dodge dating back to 2002 and says efforts to obtain competitive information from RCD dates back to "the mid- to late-1990s." Late last month, McGraw-Hill filed a motion to dismiss five counts, including those alleging misappropriation of confidential information, tortious interference with prospective economic advantage, violation of New York General Business Law, violation of the Racketeer Influenced and Corrupt Organizations Act (RICO) and conspiracy to violate RICO.
The motion, however, did not request the dismissal of the other counts alleging fraud, misappropriation of trade secrets, unfair competition, monopolization, and others. RCD's legal counsel declined to comment about McGraw-Hill's motion.
RCD is seeking an unspecified amount in lost profits, punitive damages and injunctive relief. McGraw-Hill has said RCD's suit is "without merit," and that it intends to defend itself "vigorously."