Reed Exhibitions Licenses JCK Magazine to Fairchild's WWD

New magazine, combining jewelry and fashion, set to launch in April.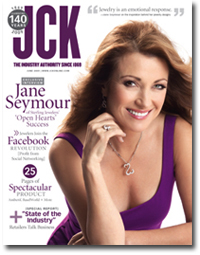 About four months after taking over management of JCK magazine, Reed Exhibitions has licensed the rights to publish the jewelry title to Conde Nast's Fairchild Publications. Moving forward the magazine will be managed by Fairchild's Women's Wear Daily division and will be relaunched as WWD/JCK Magazine.
As part of the agreement, Fairchild said it will assume all of JCK's advertising and subscription commitments while Reed Exhibitions will retain the rights to and ownership of the JCK brand.
Reed Exhibitions took over publishing JCK in August from sister division Reed Business Information, shortly after parent company Reed Elsevier announced it would put many of its U.S.-based RBI properties back on the block. "We understood the need to energize the magazine and deliver exciting new content and design, much as we are reinventing the JCK Show in our move to Las Vegas," JCK Events group vice president Dave Bonaparte said in a statement announcing the deal. "Fashion is increasingly a component of jewelry's leading edge presentation. This change provides a way to fully leverage that accelerating trend for the industry."
JCK will continue to be published by Reed through March with WWD/JCK launching in April. A Reed spokesperson told FOLIO: current JCK staffers "will be considered for employment" by Fairchild.
In April, longtime editor-in-chief Hedda Schupak, along with six other JCK staffers, were laid off as part of a 7 percent reduction of RBI's overall workforce. About a month later, publisher Mark Smelzer resigned.
Meet the Author
---