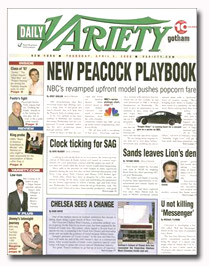 In its 2009 earnings report, Reed Business Information's London-based parent Reed Elsevier said Thursday it in fact will hold onto Hollywood trade title Variety, as well as Reed Construction Data and its BuyerZone lead generation business. Recent reports indicated the company had quietly put Variety on the block.
In July, RBI put the majority of its U.S.-based trade magazines back on the block after a failed auction of the business in 2008.
The U.S. arm of RBI reported roughly $387.3 million in revenue in 2009, a decline of about 15 percent compared to 2008. The U.K. division, meanwhile, saw sales dip 14 percent to about $414 million. Overall, the combined RBI divisions reported an adjusted operating profit of approximately $140.1 million, down nearly 30 percent from the previous year.
Reed Elsevier attributed RBI's losses to a 29 percent drop off in advertising, which makes up 47 percent of the business' overall revenues. Online advertising fell 14 percent while print ad revenues plummeted 37 percent. On the other hand, data services, which make up 17 percent of RBI's overall sales, grew 10 percent last year.
Reed Exhibitions reported a 2009 adjusted operating profit decline of 17 percent to $239.3 million. Revenues fell 10 percent to roughly $1 billion.
"The imperative is to continue restructuring the magazines business and the advertising driven portfolio; to align the cost base with reduced revenue expectations; and to further grow the data services business," the company said in its earnings report.
RBI U.S. CEO John Poulin in a memo on New Year's Eve this year informed employees that because the company is struggling to sell off its magazine brands it will need to close certain titles and lay off a number of staffers during the first half of 2010. So far, RBI in December sold Broadcasting & Cable, Multichannel News and This Week in Consumer Electronics to Wicks Group-owned NewBay Media. This week, it sold Electronic Design News, Design News, Test & Measurement World and Packaging Digest to Los Angeles-based Canon Communications.
Last month, RBI shuttered Video Business, Manufacturing Business Technology and Industrial Distribution.