Reed Business Information Sues McGraw-Hill Over 'Corporate Espionage'

Complaint claims McGraw-Hill Construction unlawfully obtained trade secrets.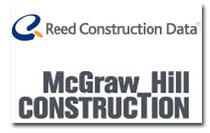 Two of the construction data industry's biggest players are now embroiled in a bitter legal battle.
Reed Construction Data, a unit of b-to-b publisher Reed Business Information, filed suit yesterday in federal court against McGraw-Hill Construction Dodge, charging corporate espionage.
According to the 60-page complaint, RCD claims Dodge unlawfully accessed confidential and secret trade information from RCD by hiring consultants to subscribe to RCD's confidential data, using made up names and fake companies. It also alleges that Dodge manipulated the RCD information to create "misleading comparisons" between Dodge and RCD's products and services "in an attempt to mislead the marketplace."
The RCD complaint cites 11 counts of misconduct by Dodge dating back to 2002 and says efforts to obtain competitive information from RCD dates back to "the mid- to late-1990s." RCD is seeking an unspecified amount in lost profits, punitive damages and injunctive relief.
According to RCD CEO Iain Melville, Dodge's alleged actions represent an attempt "to force RCD out of business and obtain a monopoly over the construction data industry."
A spokesperson for McGraw-Hill Construction told FOLIO: the RCD lawsuit is unfounded. "We believe that Reed's legal claims are without merit, and we intend to defend against them vigorously," the spokesperson said. "We take these allegations very seriously and are committed to ensuring that all employees comply with our Code of Business Ethics."
This isn't the first time these two companies have been involved in a legal dispute. In February 2000, McGraw-Hill filed a similar suit against RBI's (then Cahners Business Information) Buildingteam.com, alleging it "illegally and systematically" misappropriated confidential and proprietary business information over several months, and engaged in unfair trade practices.
Reed and McGraw-Hill settled that claim in March 2001. Terms of the agreement were not disclosed.
In April, RBI shuttered 13 of the 14 regional construction magazines published under its Associated Construction Publications group, which was managed by RCD. RBI continues to publish Construction Equipment magazine.
Not long after, John White, the original co-owner of the ACP titles, reacquired the rights to the 13 shuttered titles from RBI. In late July, ACP re-launched Construction Digest and New England Construction. In August, it planned to bring back six more titles, and to have all 13 up and running again by September.
Click here to read RCD's entire complaint.
Meet the Author
---