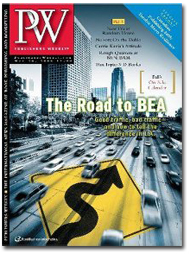 In connection with its first half earnings report, London-based Reed Elsevier said it plans to divest nearly all of the magazines published under the U.S. division of Reed Business Information. The announcement, the company said, followed a portfolio review conducted by RBI Global CEO Keith Jones.
The company also said that RBI U.S. CEO Tad Smith has resigned. Executive vice president and CFO John Poulin was appointed acting CEO, reporting to Jones.
"This has been a difficult decision to reach as there are many strong brands here, with very experienced and professional teams running them, but we have concluded that they are less well suited to RBI's strategy going forward," Jones said in a statement. "We have had to contend with a far harsher advertising environment than any of us have experienced before and, in such a climate, we have to focus not just on innovation and efficiency, but also on ensuring that our portfolio is well-matched with our long-term ambitions."
Among the magazines for sale are Broadcasting & Cable, Mutichannel News, Professional Builder, Publishers Weekly and Tradeshow Week.
Reed said it will retain its Reed Construction Data, RSMeans, Variety, MarketCast, LA411 and BuyerZone properties. The company put RBI on the block in February 2008.
"I think RBI U.S. is an attractive package, but with advertising in such sharp decline for all b-to-b media it will be harder to find a buyer than it would have been a year ago," DeSilva + Phillips managing partner Reed Phillips told FOLIO:. "Nevertheless, I think Reed Elsevier will be successful in selling the business this time around."
Profits Plunge
Reed reported operating profit through the first six months declined 29 percent to roughly $518.3 million. Revenues were up slightly to $5.57 billion.
RBI, however, saw adjusted operating profits plunge 43 percent to approximately $64 million during the period and revenues decline 17 percent to approximately $759.2 million. Reed Exhibitions reported an adjusted operating profit decline of 26 percent while revenues fell 22 percent.
During its earnings call, Reed CEO Ian Smith said the company will issue up to 9.9 percent of share capital to pay down the company's $8.4 billion in debt—$4.17 billion of which is associated with its acquisition of risk analytics company ChoicePoint.
Reed had hoped to offset that debt by selling RBI, but dropped the sale late last year after bids were said to have fallen from approximately $2 billion to $1 billion.