NEW YORK—Over the past decade or so, it has become relatively common to hear the phrase "print is dead."
But at this year's min day summit in New York on Tuesday, several panelists noted that print is still an important platform and will likely remain relevant for at least the next ten years. Digital and print are often framed in opposition, but by seeing the two platforms as complementary, one can conceive of print's continuing success. The definition of a successful print magazine just might have to change.
Panelists Larry Burstein, publisher at New York Media, Christian Baesler, president of Bauer Xcel Media, and Scott Burton, executive editor of ESPN The Magazine, specifically explored this concept. Each panelist took a different approach towards print and digital.
Burstein emphasized that New York Media focuses heavily on "reaching the audience in any way they want to be reached," by integrating departments. ESPN the Magazine also uses an assimilated approach to take advantage of ESPN's enormous reach. This allows for strategizing across all channels, resulting in wide coverage that engages audiences beyond the Magazine's reach.
In contrast, Bauer advocates for separate operations entirely. "Editorially, we found the tools you need as an editor to succeed in print versus digital are very different," Baesler explained.
Despite the different approaches, all three panelists maintained that print would be successful in the future, provided one understands the different context within which print exists today. Burstein and Burton agreed print magazines need to identify themselves as a place where people can access great stories. Certain content areas are better suited for digital because of the quick publishing time. But magazines offer a different reading experience, one that is finite and tangible.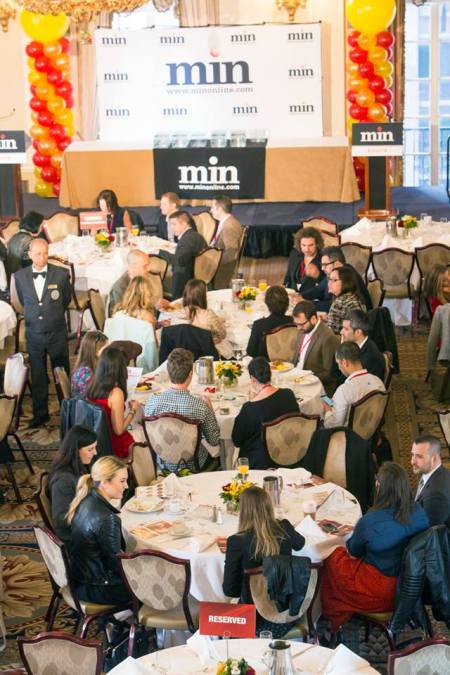 The rest of the min day Summit saw more than 25 leaders from magazine media, advertising agencies, and tech companies discuss specific challenges, strategies, and opportunities in the industry. Speakers examined a wide range of topics, from exploring the possibilities of virtual reality to understanding Hispanic marketing.
A lively group of industry professionals gathered at the Yale Club to hear the speakers, which included Kate Brady, director of media strategy and innovation at PepsiCo, Cathy Glosser, SVP licensing for Condé Nast, Mike Suggett, VP, executive producer, original programming at Ten/MindOverEye, and Michael Brownstein, VP and CRO of Meredith Corp.
"The next $50 billion will come from a better mobile experience," announced Craig DiNatali, Google's director of News Media Partnerships and the keynote speaker. Media is increasingly being consumed in different verticals, as behavior and consumption has changed drastically. Almost 80% of people access news on mobile devices today.
In this environment, context and engagement matter more than ever. "If you create a better experience in these mobile environments, you're more likely to succeed in the long term," he said. This means erasing loading time—if it takes longer than ten seconds, half your audience is gone. Google's AMP (Accelerated Mobile Pages) thereby aims to create a faster environment for consumers to engage with content.
Engaging audiences on different platforms was a key theme throughout the day. While many publishers have established social media platforms, it remains an area that brands want to improve upon. Snapchat Discover and Facebook Live were a favorite topic, as they're new platforms many companies have yet to crack open.
National Geographic's vice president of social media, Rajiv Mody, discussed why brands should improve their social strategy, using the brand's impressive use of Snapchat Discover as an example. Mody said that Discover should be as customized and engaging as possible for the audience.
But such customization should not be relegated only to social media. It is also increasingly important in advertising. Digital may have initially been seen as a way to increase ad revenue and access, but brands have seen ad blockers, viewability problems, and other roadblocks appear.
So customization is more important than ever, and clients reflect this. There is an increasing trend of clients partnering with brands to create custom content. But, as Shenan Reed, president, digital of MEC Global said, "We don't spend enough time talking about the terrible creative that could be massively improved to help performance."