Red Bull Media House Brings Its Magazine Online

The Red Bulletin's digital strategy is expectedly aggressive.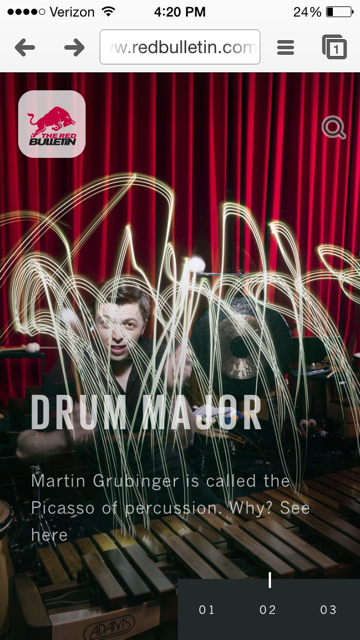 This week, The Red Bulletin is introducing its redesigned website in an effort to enhance its online storytelling capabilities, and create a platform that's inviting to advertisers.
The Red Bulletin magazine is Red Bull Media House's print magazine. It also happens to have a global circulation north of 2 million, with 550,000 here in the U.S. It targets an audience of active lifestyle males, 18-34, and a company spokesperson tells FOLIO: that it is seeking endemic partners to reach that audience online and on mobile devices.
The new site has what's becoming an increasingly familiar UX, with a large image header that cascades into content, which allows for multiple entry points and interactive features like video and slideshows. And advertisements can be nestled in between scrolls.
The company worked with SWIPE, an agency in Hamburg, Germany to develop the site.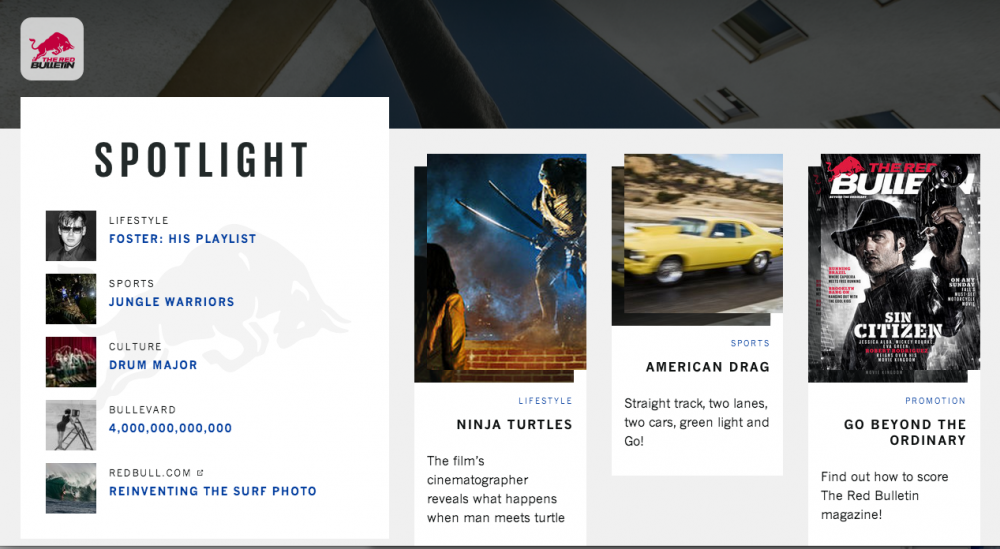 The magazine will be showcasing how it plans to leverage its site's cross platform immersive design on August 12, when it publishes its latest issue. The issue's cover story is on director Robert Rodriguez, and online readers will have extra content to explore, beyond what the magazine offers.
The Red Bulletin's goal for the website is in line with Red Bull Media House's—to compete as a media company, against media companies. The company says that The Red Bulletin acts as a commercial product of Red Bull Media House, not as a vehicle for content marketing. Depending on your definition of content marketing, that might be debatable, but its impossible to dispute that Red Bull Media House isn't competing for eyeballs within its targeted audience segment.
The company says it has aggressive expectations in terms of traffic benchmarks, but will not disclose exactly what those figures are. Given the size of its circulation, it would be reasonable to assume that The Red Bulletin would want to scale to a comparable, if not larger digital audience.
Meet the Author
---