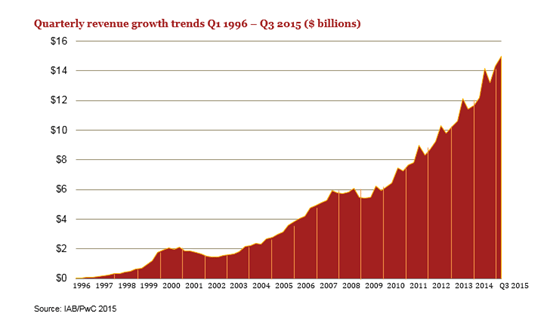 It's Christmas come early for digital platforms.
Despite challenges such as ad-blocking and viewability, advertising revenues in the U.S. reached an all time high in the third quarter of 2015, soaring to $15 billion and outpacing last year's third quarter figures by 23 percent, according to the latest figures released by the Interactive Advertising Bureau (IAB) and auditing firm PwC US.
As consumers flock to digital platforms, advertisers appear to be following suit. Q3's record-breaking $15 billion represents a five percent uptick from the second quarter of this year, when revenues were $14.3 billion.
"These landmark figures confirm marketers' confidence in using digital to reach consumers," said IAB president Randall Rothenberg in an official statement.
Even as consumers grow more creative in their attempts at attaining ad-free experiences, quarterly revenues have continued to rise sharply since early 2009, when they dipped below $6 billion after a period of steady growth dating back to 2002. Since then, revenues have risen sharply year-over-year, with no discerinble plateau in sight.
After a seasonally-typical dip in early 2015—first-quarter revenues generally recede slightly following the fourth quarter and the preceding year's holiday season—revenues have now bounced back for consecutive record-breaking quarters.
"These numbers demonstrate that digital is a critical part of the marketing mix," said David Silverman, a partner at PwC US. "Brands understand that interactive provides the type of rich, immersive experiences that attract today's audiences, no matter the environment or time of day."
In November, Connectiv reported that, in the second quarter of 2015, digital revenues in B2B media eclipsed print revenues for the first time ever.
Sponsored by IAB, the Internet Advertising Revenue Report is conducted independently by PwC's New Media Group, with data collected directly from companies selling advertising on the web. Data includes not just online advertising revenues, but also online services and free e-mail providers.