Recipe.com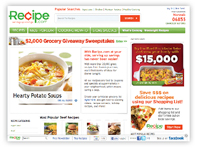 Meredith's historically fastest-growing site bolsters the company's aggressive digital strategy and leadership in the food category.
With successful brands like Better Homes and Gardens and Family Circle, Meredith has long been a leader in the food category among magazine publishers. But with its June 2011 launch of mega-brand Recipe.com, the company is working to position itself as a powerhouse in the digital space, with hopes to crack the comScore top ten food properties before long.
Recipe.com is a multi-platform business centered on its title website, which allows shoppers to create personalized grocery lists from more than 20,000 recipes, with localized store coupons and savings information. Other components include a quarterly newsstand magazine, with a 350,000 print run; Recipe.com-branded editorial and onserts in Meredith's other monthly titles and segments on the company's syndicated television program Better.
Bolstering Meredith's digital food strategy is its acquisition of EatingWell Media, announced in tandem with the launch of Recipe.com, as well as its more recent purchase of Everyday with Rachael Ray. Together with Recipe.com and Diabetic Living, these brands form one entity called the Meredith Food Network, which reached 4.9 million unique visits in Recipe.com's sixth month of existence, per comScore, making Recipe.com Meredith's fastest growing website historically, says Meredith National Media Group SVP of digital engagement Dan Hickey.
"We needed a vision to differentiate the site," says Hickey. "First and foremost, we needed a framework strategy, but also a voice." The Family Circle editorial team, led by editor Linda Fears, was enlisted for guidance during development, and then Cheryl Brown, formerly of AOL, was hired as editorial director once the site launched. Brown will spearhead the site's relaunch in the coming months.
The company tapped a combination of new and existing staff to manage the project, with marketing, audience development and administrative functions based in Des Moines, Iowa and editorial based in New York. "Our digital food strategy is really a company-wide collaboration," says Hickey. "The entire company is rallied around this to make sure we maintain and increase our leadership."
Also key to start was lining up content partners, including food companies Betty Crocker, Campbell's and General Mills as well as non-Meredith magazines such as Vegetarian Times.
This year, Meredith plans to syndicate a Recipe.com-branded savings and shopping list tool to internal and external sites. It will also launch a tablet-optimized site to join its existing mobile site and the Shopping List app it distributes through iTunes. Of shopping lists, Hickey says, "We're still competing against paper and pencil, but there will be an inflection point where women are using digital lists more. Manufacturers, retailers and Meredith want to be closely associated with that."
A focus will also be on collecting data along the loop from when consumers plan, shop for and prepare their meals.
Hickey attributes Recipe.com's success so far, in part, to a startup mentality: "We're a fairly large, established company, but we talk about having a startup culture that is always innovating and sometimes values failures as much as successes."
Progress So Far
Recipe.com has become Meredith's fastest-growing site historically within six months. The Meredith Food Network websites drew 4.9 million unique visits in December 2011. The company's acquisitions of Eating Well and Everyday with Rachael Ray bolster its digital food strategy.
Meet the Author
---