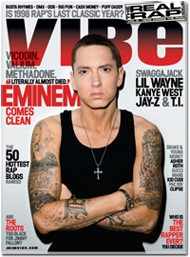 The bad news keeps rolling in for shuttered hip-hop magazine Vibe.
Less than a month after Vibe announced that it was going out of business, an angry subscriber this week filed a federal lawsuit claiming breach of contract. The reader, Enterprise, Alabama resident Kenneth Rogers, reportedly purchased a one-year subscription to Vibe three months before it folded.
Rogers is petitioning for all of the magazine's subscribers to get a refund for the issues they won't receive. According to the lawsuit, Vibe's Web site "continued to contain links to advertisements enticing customers to purchase subscriptions to the magazine" even while the company was "quietly closing up the shop."
The suit said Vibe Media Group, which is named as a defendant, should have notified subscribers of its intentions to close the magazine.
Whether publishers cough up refunds, or fulfill the remainder of a subscription with another title or by selling its list to another publisher, satisfying subscribers is a topic that has increasingly been discussed as more magazines have been forced to call it quits this year. Just look at the comments posted to FOLIO:'s story from February about the closing of Hallmark magazine. Subscribers don't appear to be happy.
Today, I spoke with professor and ethics columnist Jeffrey Seglin, who said that even when magazines fulfill their subscriptions with other titles, it can anger existing subscribers.
"An ethical response would be to be very clear with readers what you plan to do to fulfill the remainder of their subscription and then to make sure to follow through and do what you say you are going to do," Seglin said. "No communication with readers strikes me as an unacceptable approach."