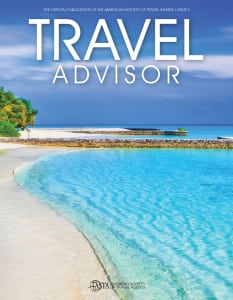 Working to deliver content that's more relevant to the modern travel agent, American Society of Travel Agents (ASTA) is relaunching its trade publication, ASTAnetwork Magazine, as Travel Advisor this May.
The name "Travel Advisor" was an intentional first step in the rebranding, according to ASTA's director of communications and Travel Advisor's managing editor, Erika Richter.
"We're really trying to hone in on what travel agents are, and they are advisors," says Richter. "They truly are becoming these very dynamic professionals and we wanted to make sure that we were recognizing that in our new publication."
The traveler and the travel agent
Changing the public's perception of travel agents has been a top priority for the association for several years and according to Richter, it's finally seeing great progress in this mission. "Our research is backing it up so we're definitely on the right track, but it's an everyday task, as you can imagine," she says.
Richter tells Folio: that the more travel resources there are available online for consumers, the more ASTA's focus is to highlight the value that advisors provide to the traveler. Travel Advisor will work to not only give association members the tools needed to strengthen their industry knowledge and skills, but feedback from its readers will give ASTA the toolkit they need to further their mission when reaching out to broader media.
"This is a chance for travel advisors to help me shape some of the work that I do on the consumer awareness side," says Richter. She continues that some of the feature stories will be used beyond the page of the magazine in other media engagements—particularly the big feature in their first issue, "The Great American Summer."
In this story, ASTA's partners and membership provided insights on the resilience of different areas and vacation spots that have been the target of disasters over the past year. And while it will rely on industry leaders and the board of travel advisors, Richter says that one of the main goals is "leaning on the travel advisors themselves and lifting them up so that we can shape the future of how we're portrayed to the traveling public."
Using industry professionals to write the story
Beyond this, ASTA looks to include new content across many different sections of the publication that travel advisors want to know more about. "We're hoping that in doing so, we'll have something for everybody and we'll be able to touch on all of the verticals of the industry," says Richter.
Featuring industry leaders is another element that Richter hopes will inspire association members and provide them with knowledge that they can learn the most from.
"We're really excited that in each issue we're going to have multiple voices of industry leaders weighing in on different topics," she says. "It's not going to be super ridged where it's all of ASTA's voices up front—we're actually weaving the ASTA voices and contributions throughout the magazine."
Beyond the typical travel writer, Richter and her team want to integrate actual travel agents as writers into the publication. In one section of the magazine called "Checking In," travel professionals will go to different hotels and destinations to review properties in the voice of a travel agent, in order to provide an experience that travel professionals can use in their businesses.
Richter also points out that what's unique to Travel Advisor is that the in-house writers are all travel professionals as well. "We do have the fortune of having some really wonderful experts on staff that have knowledge on topics that no travel writer would ever have," she says. "We're going to be able to tap into that knowledge and make this magazine unique."
Advertising for the reader, not to the reader
Another way that ASTA will work to integrate the voices of its members is by incorporating advertisements from members' businesses. Because the association has members hailing from all different areas of the travel industry, Richter says that it's important that they can communicate and familiarize themselves with the products and services that are offered from peers, that they might not have otherwise learned about outside of the association.
"We have a very big membership and a lot of our members do business with one another, so being able to have advertisers in our magazine is another way for travel sellers to familiarize themselves with destinations and other travel suppliers in our membership," Richter says. As a publication that's distributed as a member benefit, "it's a really great place to have a voice within the industry association publication."
Richter says she isn't concerned about being able to balance advocacy for the industry, service to ASTA's members, and revenue for the association. "Our members will always come first so we're always going to be focused on putting content together that is meaningful to them," she says. "There's always a balancing act and I think that any trade association would agree."