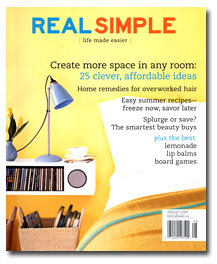 RealSimple.com has launched a new blog called "Simply Stated," featuring the work of "top tier bloggers" across categories like food, home and organizing, beauty and style, and life and home.
According to RealSimple.com executive director Tanya Singer, the bloggers—including a 20-year-old journalist and mother of five whose tech blog includes advice on balancing work and home—were "handpicked as the best names in their respective categories." Blog content will be unique to Real Simple but will drive traffic to the bloggers' sites as well, she said.
The launch is part of what the magazine calls a "multi-phase online makeover," leading to a full relaunch in August.
According to Real Simple, Time Inc. made the magazine's Web site a top priority for 2008.
The site will continue to run its existing blogs, including "Adventures in Chaos," written by the magazine's managing editor Kristin van Ogtrop, and a wedding blog called "Nearly Wed."
Last year, RealSimple.com saw a 50 percent increase in page views over the 2007, with total visits increasing by 68 percent.
According to Singer, the refresh will "no doubt" increase the site's current traffic.