Real Simple Launches Dedicated Wedding Channel

Lover.ly partnership adds search, content syndication and ad opportunities.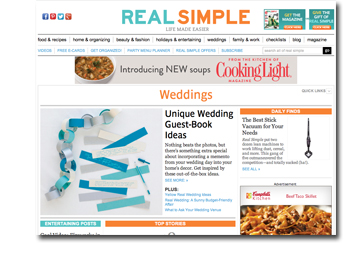 Time Inc.'s Real Simple has leveraged its growing wedding coverage and audience interest in the topic into a dedicated channel on its website. The channel is enhanced via a partnership with the Pinterest-like visual search engine Lover.ly.
The channel features Real Simple's take on planning a wedding—checklists, gift ideas, inspiration and so on, and will be updated daily.
Wedding-related content has been a growing segment for the brand, which dedicated a special issue to the topic in 2009. Its also a regularly searched category on the website and related keyword searches are a top organic traffic driver.
"The topic of weddings has been one of our top-ten to top-five searches," says Realsimple.com general manager Shannon King. "'Wedding checklists' has been one of the largest organic traffic drivers into Realsimple.com."
Lover.ly, which launched in 2011, will provide Realsimple.com with content from the network of sites that it indexes and collects images from. Lover.ly visitors use the site as a visual search engine and scrapbooking service to find inspiration and ideas for their weddings. Users can save all the images they find into their own "Bundles" where they can also directly shop from and share with other users.
Likewise, Real Simple content will be syndicated out to Lover.ly's network, which currently attracts about 2.5 million monthly uniques, according to Lover.ly's internal numbers.
While the partnership extends Real Simple's content reach as well as enhances its own offerings, the brand will also take on display advertising sales for the Lover.ly ad network.
Meet the Author
---