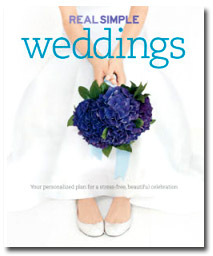 Real Simple magazine is taking its concept of making life more simple one step further by applying its wealth of practical life advice to an often daunting and expensive experience: planning a wedding.
This month it launches its first-ever planning guide, Real Simple Weddings.
"We wanted to do something that speaks to our readers. We've had a lot of interest from readers looking for tips how to save time and money on their wedding but still make it look expensive and gorgeous," a Real Simple spokesperson tells FOLIO:. "People can spend a lot of time and money on a wedding when it can be made more simple."
The 160 page guide is divided into three sections—Your Plan, Your Ceremony and Your Reception—and features strategies for creating a budget, choosing a location, assembling the guest list and managing the wedding party. Each section also features answers to 10 common questions, and comes with a pullout guide containing checklists and contact sheets.
As part of a special promotion, the guide will be sold exclusively at Crate & Barrel stores through January 27. After that, it will be available at retail stores. The cover price is $12.95.
Real Simple Weddings is part of a larger Real Simple initiative to expand its brand into other platforms, which already includes international editions, a syndicated newspaper column and a television show.
Last year, Real Simple generated about $300 million in revenue, according to the latest PIB figures. The magazine had 2,090 ad pages, up about 15 percent from 1,814 in 2006.