Readymade's San Francisco Staff Balks at Meredith's Move to Des Moines, Quits

Entire edit staff decides not to relocate to Iowa.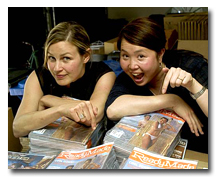 Pretend, for a moment, you have two options:

1. Keep your job at a hip and by all accounts growing magazine, but you have to move to Iowa.
OR

2. Quit your job at the hip and by all accounts growing magazine, but stay in San Francisco.
When Meredith decided to move Readymade from San Francisco to Des Moines (part of a 7 percent overall workforce reduction) I figured there would be a good number—even a dissenting majority—of the staff who would decide not to make the move. However, I didn't think no one would! Yet, that's what happened: None of the "half dozen" editorial employees, including co-founders Shoshana Berger and Grace Hawthorne [pictured, left to right], chose Iowa, according to a Meredith representative.
Moves like this are not uncommon in the magazine industry—think Time Inc.'s sale of Time 4 Media to Bonnier (New York to Winter Park, Florida) or, more recently, Playboy's U-Haul from New York to Chicago. But San Francisco to Des Moines is a bit more drastic, considering the magazine's sensibility:
The magazine was part of the Urban Ore/East Bay Depot for Creative Reuse neighborhood that surrounded it; its editors were talking about sustainability issues before sustainability was cool. Fans are concerned that it will take on the more traditional, Midwestern tenor of its corporate siblings when it is headquartered in Iowa.
But does geography matter when it comes to producing a magazine?
"Your sense of place does have an impact. Even though you have a virtual community of writers and readers, you also have a physical one. Where you get a cup of coffee, who you run into on the street, that all has an effect on you," publisher Cameron Woo of Berkeley, California-based Bark told the San Francisco Chronicle. "I don't want to sound snobby, but there's a different sense of place in the Bay Area than there is in Des Moines."
On the bright side, at least for Des Moines-area magazine talent, this means Meredith is hiring.
Meet the Author
---