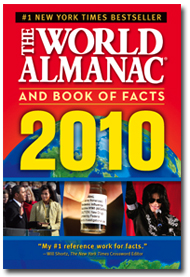 New York City-based Infobase Publishing, a publisher of supplemental educational materials to the school and library markets, has acquired the World Almanac brand from World Almanac Education Group, which reported to the Reader's Digest Association's Reader's Digest Community.
Terms of the deal, which closed August 20, were not disclosed.
According to Infobase president Mark McDonnell, the deal "was a small one, from RDA's perspective, and one that they could get done before its bankruptcy filing." Last week, RDA officially filed for Chapter 11 bankruptcy protection in an attempt to reduce the company's debt from $2.2 billion to $550 million. As part of the pre-packaged deal, RDA's senior lenders will exchange a "substantial portion" of the company's $1.6 billion in senior secured debt for equity.
As part of the transaction, Infobase acquired The World Almanac and Book of Facts, The World Almanac for Kids and The World Almanac Book of Records. Earlier this year, the World Almanac Education Group shut down World Almanac Education Library Services, a book distribution service.