Reader's Digest Officially Files for Chapter 11

More than 80 percent of senior lenders have agreed to pre-packaged reorg plan.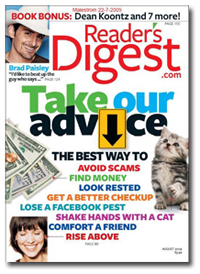 As expected, Pleasantville, New York-based Reader's Digest Association said today it officially filed for Chapter 11 bankruptcy protection. The publisher said it had agreed with more than 80 percent of its senior secured lenders on its plan of reorganization.
According to RDA CEO Mary Berner, the company's "operations remain solid" with anticipated fiscal 2009 revenue down by low single digits. "We look forward to emerging with a restructured balance sheet and as a financially stronger organization," Berner said in a statement.
RDA said it is seeking and expects to receive court approval for a number of first-day motions, including requests to honor customer obligations. Suppliers and vendors who provide goods and services to the company on or after August 24 will continue to be paid as usual, the company said.
Last week, RDA said it reached an agreement in principle with a majority of its senior secured lenders on terms of a restructuring plan to reduce the company's debt from $2.2 billion to $550 million, which has its senior lenders exchanging a "substantial portion" of the company's $1.6 billion in senior secured debt for equity.
According to the agreement, RDA's lender group will provide the company with $150 million in debtor-in-possession financing which, it said, will be convertible into exit financing upon emergence from Chapter 11.
RDA's operations in Canada, Latin America, Europe, Africa, Asia and Australia-New Zealand are not affected under the U.S. bankruptcy filing.
Meet the Author
---