Reader's Digest Launches Redesigned Web Site

Web relaunch comes as print magazine is reeling.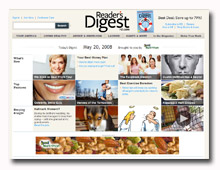 Reader's Digest today launched its redesigned Web site, RD.com.
The new site features seven content channels including Make Your Mark, an interactive platform that enables users to share stories of community activism; Advice & Know-How; and In the Magazine, which features articles from the current issue.
"By utilizing our vast reservoir of content, we're able to create branded environments that allow our advertisers and our users to connect in ways that are tailored to meet the needs of both," RD.com general manager Steven Schwartz said. "The RD.com audience has always shown a high level of engagement with the brand, from submitting an average 17,000 jokes each month to lobbying Congress on issues we've written about."
On Wednesday, RD.com will unveil two blogs called Loose Cannon and Healthy Dose, which cover insider information from Washington, D.C., and health news and issues, respectively. The magazine worked with Brooklyn-based Web design firm Huge to create the new RD.com.
The Web relaunch comes as Reader's Digest the print magazine is reeling. During the first quarter, it pulled in $62.3 million in advertising revenue, down 23 percent from $81 million during the same quarter in 2007, according to Publishers Information Bureau figures. Ad pages for the quarter were down 19.4 percent over the same period last year.
Meet the Author
---