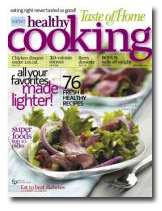 Healthy Cooking, a bi-monthly magazine from the Reader's Digest Association's Taste of Home brand, hits newsstands this week, replacing the soon-to-be-shuttered Light and Tasty.
The new magazine will launch with a rate base of 500,000, picking up Light and Tasty's 500,000 subscriber list. Suzanne Grimes, president, food and entertaining at RDA, says the title will be primarily subscription-based but will sell at newsstand with a cover price of $3.99.
Healthy Cooking will include the same volume of user-submitted recipes as its predecessor but will also include original, healthy lifestyle editorial. Another distinction is that Light and Tasty "was not as healthy as Healthy Cooking will be," says Grimes. "What constituted healthy a few years ago is different from today." Light and Tasty launched in 2001.
At launch, Healthy Cooking contains no ads and 68 pages of edit. "We're getting it first in front of consumers, then we'll sell to advertisers," Grimes says.
Healthy Cooking is the second of four Taste of Home magazines to be ABC-audited. The flagship Taste of Home was the first when it opened up to advertisers for the first time in its 15-year existence with its October/November issue. According to the latest ABC figures, Taste of Home has 3.1 million paid subscribers.